An Eaglemouth tortoise with an odd appearance---large head and spiked shell, was caught by local fishermen after it was spotted in a fish pond on September 14th, the "Yangtze Evening News" reported.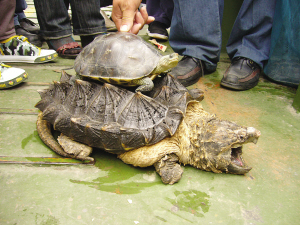 Villagers compare a common tortoise with an unusual looking Eaglemouth tortoise in this photo published on September 14, 2008. [Yangtze Evening News] 
The tortoise is 80 centimeters long and weighs over 11 kilograms. It has six pairs of spikes on its shell and has been estimated to be over 500 years old.
It was spotted by the owner of a local fish pond near the levee of the Yangtze River.
The tortoise is very aggressive and will attack anybody who comes close. It was eventually caught from behind, a direction its powerful bite could not reach.
The fish pond owner believes the tortoise crossed the levee when the Yangtze River was on the rise days ago.
An expert said the fresh water tortoise is known as an Eaglemouth and is native to China.
The species was long thought to be extinct due to over fishing. It is now a state protected animal.