Two brothers who sold about 3 tons of fresh milk to the Sanlu Group a day were arrested in Hebei province on Sunday because their product was adulterated.
Sanlu, a leading baby milk food producer, is in the grip of a scandal after its contaminated products have caused the death of two infants. Altogether, 1,253 infants across the country have been diagnosed with the ailment after drinking Sanlu milk.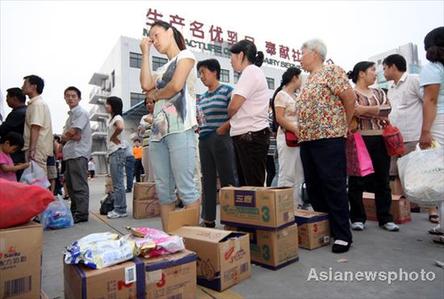 Consumers queue to claim for refunds at the Shijiazhuang-based headquarters of dairy producer Sanlu Group in North China's Hebei province on September 13, 2008. [Asianewsphoto]
The brothers, surnamed Geng, and residents of Zhengding county in Shijiazhuang, face charges for producing and selling toxic and hazardous food, Shi Guizhong, spokesman for the Hebei provincial public security bureau, said Monday. Under the Criminal Law, the heaviest penalty for such a crime is death.
Shi said the Geng siblings had been running a private milk collection center since May 2004, when they signed a supply contract with Sanlu, based in Shijiazhuang, provincial capital of Hebei.
The elder Geng, 48, began mixing melamine, a chemical banned for use in food processing, with milk at the end of last year. Melamine, often used in the plastic and other industries, can get around factory quality tests if it is added to fresh milk and can make milk appear rich in protein, experts said.
Geng began mixing the chemical because he suffered a huge loss after Sanlu rejected its supplies several times for they failure to meet its standards, Shi said.
He has confessed to the crime and said "his family never drank the contaminated milk", and he was aware that he was deceiving Sanlu by mixing the chemical, Shi said.
Asked if he knew the consequences of such an act, Geng said: "I've never asked and never thought about it. I only know it's bad for health."
The Geng siblings are the first to be arrested, and were among the 19 people detained by police for their alleged involvement in the adulteration scandal. Like the Geng brothers, 16 of the other detainees are from private milk collecting centers. The last one is suspected of selling melamine illegally.
Zhang Yunchuan, Party secretary of Hebei, said on Saturday night that the guilty would get "severe punishment" because "we owe the people an explanation".
The Shijiazhuang government said yesterday that the more than 10,000 tons of Sanlu milk food seized or recalled would be destroyed under the supervision of quality control authorities. Another 700 tons of milk food is on its way back to Shijiazhuang.
The scandal reflects the poor management and supervision over milk products, according to experts. Wang Dingmian, a China Dairy Association official, said most of the fresh milk for Sanlu came from its subordinate dairy farms.
"But given the huge demand, Sanlu needed to get some from private milk collecting centers, too, giving illegal operators a chance to make a fast buck." Such private milk collecting stations can often be seen in Shaanxi, Gansu, Heilongjiang and Hebei provinces.
Chen Min, China Agricultural University's professor of food science, said the scandal could deal a heavy blow to individual dairy farmers because collecting centers are normally the only place where they can sell their fresh milk.
If dairy firms stop buying their products, "the farmers will have no option but to kill their cows", she said.
Assessing scandal impact
The Ministry of Agriculture began an inspection drive against the dairy industry yesterday. Ministerial teams were sent to six major milk-producing areas: Beijing, and Hebei, Heilongjiang and Henan provinces, and the Xinjiang Uygur and Inner Mongolia autonomous regions.
The officials will talk to dairy farmers, fodder producers, people running milk collection centers and supermarket officials to find out their concerns and suggestions, the ministry said.
They will try to assess the impact of the Sanlu scandal on the dairy industry, and suggest how to protect farmers and promote the stable development of the dairy industry.