CHENGDU -- NBA star Yao Ming's two-day visit of the earthquake-hit Sichuan Province ended on Monday.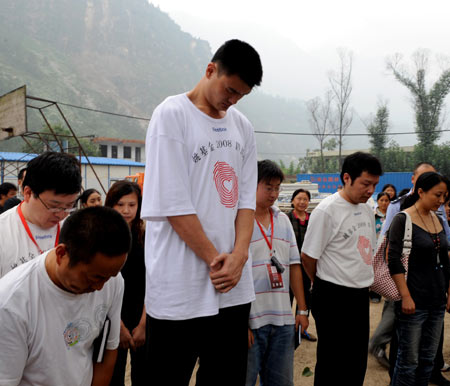 Chinese NBA star Yao Ming (C) mourns for victims of the May 12 earthquake at the ruins of the Beichuan Middle School in Sichuan Province September 14, 2008. [Xinhua]
The Chinese sports icon on Sunday attended the groundbreaking ceremony for a primary school in Guangyuan, which will be built with the money from "The Yao Ming Foundation".
Yao launched the foundation after a deadly earthquake devastated the southwestern Chinese province on May 12 and killed over 70,000 people.
Related readings:


 Yao spends Mid-Autumn Festival with Sichuan students


 Former basketball giant dies after heart attack, Yao saddened


 Yao Ming saddened by Mu's death


 A brilliant casting idea: Yao Ming as Confucius
Yao also attended the groundbreaking ceremony for a school to be built by China Life Insurance Company.
In his two-day visit to Sichuan, Yao Ming visited Beichuan, one of the worst-hit areas by the 8.0-magnitude earthquake, spent the Mid-autumn Festival with quake-affected children and played basketball with students who study and live in tents in Mianyang.
"People in the disaster-hit areas are strong and optimistic," said Yao Ming on Monday.
Zhang Mingji, who heads "Yao's Team" of Chinese and American agents, said Yao's foundation has collected 25 million yuan (US$3.7 million).