FUZHOU - Fujian and Zhejiang provinces in eastern China have evacuated over 260,000 people from low-lying coastal regions, as typhoon Sinlaku appeared to be moving toward them after it pounded Taiwan early Sunday morning.
The Fujian provincial meteorological observatory said the eye of the storm was in Yilan county, Taiwan, at 5am, bringing winds of 45 m per second.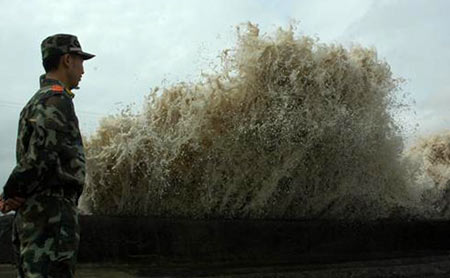 An armed police officer patrols the area around a dyke in Wenling, Zhejiang province on September 14, 2008. More than 260,000 people from low-lying coastal areas in Fujian and Zhejiang provinces have been evacuated as Typhoon Sinlaku approaches. [Jia Ce] 
Its power started to affect Fujian, as the observatory issued a yellow alert, or the second-degree disaster weather warning, Sunday, forecasting winds close to hurricane force and heavy rains in the sea area of the Taiwan Straits from Sunday to Monday.
Sinlaku is the 13th tropical storm so far this year. The flood-control department in Zhejiang warned Sinlaku could cause serious damage on its possible course through the cities of Ningbo, Taizhou and Wenzhou, as well as the Zhoushan Islands.
The provincial fisheries bureau has called 29,899 fishing boats to shore and evacuated 147,181 people to safer places.
Local authorities have urged all coastal scenic spots to suspend business and urged tourists to stay in safe places or return home.
In Fujian, more than 30,000 fishermen returned to harbor by Saturday.
Typhoon Sinlaku slammed into Taiwan with heavy rain and strong winds Sunday, flooding low-lying regions and causing landslides that disrupted traffic and halted trains and domestic flights, officials said.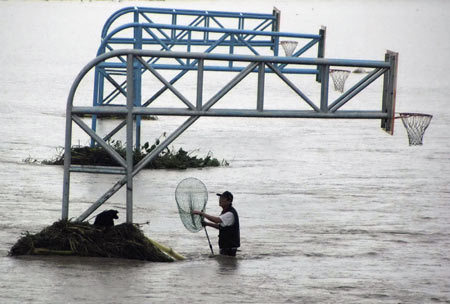 A man rescues a dog trapped inside a flooded basketball court beside the Ilan River as Typhoon Sinlaku hits the northeastern coastal area of Ilan county September 14, 2008. [Agencies]
Sinlaku made landfall in coastal Ilan county in northeastern Taiwan at 1:30 am but quickly turned and headed back out to sea, according to meteorological authorities on the island province.
"It's hanging around at the ocean near our coasts," said meteorologist Lee Hsiang-yuan. "It may move north, but we will not rule out another landfall on Taiwan."
Domestic flights were canceled, trains stopped running and several mountain highways were blocked by landslides, according to the Disaster Relief Center.
The center said that 55 rivers are prone to flash flooding and warned people living nearby to take precautions.
More than 1,000 people were evacuated overnight from low-lying areas in Taoyuan and Hsinchu counties in northern Taiwan, it said.
As the storm moved away from eastern Taiwan, authorities began to restore rail traffic, allowing people to resume plans to visit their families for the traditional Mid-Autumn Festival.
Television footage showed traffic jams in Ilan's flooded streets, which were littered with fallen billboards and uprooted trees. Power was cut in 120,000 households in Ilan, the reports said.