Rescuers Thursday were still searching for people missing after hundreds of thousands of tons of liquid iron-ore waste flowed downhill from a mine's dump in Shanxi province, as the death toll rose to 151.
The Tashan Mine iron-ore waste dump's wall broke on Monday, causing a massive landslide that buried an entire village and a market in Xiangfen county.
The dump was about to burst its banks on Monday after being filled to more than capacity, and rain precipitated the process.
Shanxi provincial government secretary-general Wang Qingxian denied claims on the Internet that hundreds of people were missing after the landslide.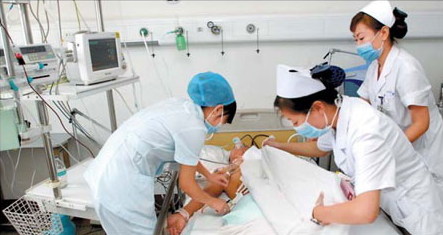 Nurses attend to a man rescued from the mudslide at the Xiangfen People's Hospital in Shanxi September 11, 2008. [China Daily]
The disaster relief headquarters has sent more policemen and government employees to conduct a "door-to-door" check in the nearby villages to determine the exact number of missing people, he said. The villages are home to many migrant workers.
The exact figure is still not known, Wang said, but he promised timely updates of the number of casualties.
More than 2,500 rescue workers, with the aid of over 110 excavators, had searched almost 60 percent of the 30 hectares covered by the thick, heavy slush by Wednesday, he told a press conference Thursday.
"The rescue work can be finished in three to five days if the weather remains fine."
The provincial government said families would be paid 200,000 yuan ($29,300) as compensation for every member they had lost in the disaster.
Hundreds of doctors have joined the medical team to treat the 35 injured and take steps to ensure an epidemic does not break out in the area, Gao Guoshun, provincial health department head, said.
The State Council, the country's cabinet, has formed an experts' group, led by Wang Jun, director of the State Administration of Work Safety (SAWS), to probe the case.
Wang Qingxian said a man called Zhang Peiliang bought the Tashan Mine from the local government in 2005. But he did not apply for a new safety production license after it expired in 2006. Moreover, Zhang's mining license expired in 2007.
"It is a grave accident on the part of officials," said Wang Dexue, SAWS deputy chief, who is also the deputy head of the probe team.
Shanxi is rich in mineral deposits, and the government has already asked about 700 similar mine tailing dams in the province to streamline their operations.
Xinhua contributed to the story