GUANGZHOU: Authorities here are investigating why thousands of fish died in a section of the Liuxi River, the Southern Metropolitan Daily reported Thursday.
The fish, which were found floating in a 10-km-long section of the river near the Longgang Bridge between Huadu and Baiyun districts were first spotted on Sunday night, it said.
Fishermen and local fishing authorities said they have never before witnessed such a high number of dead fish.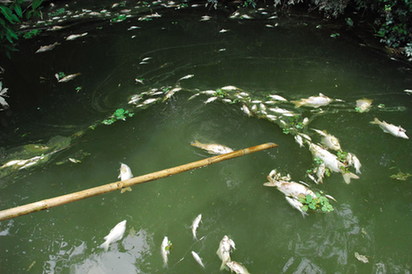 Dead fish float on the surface of the Liuxi River in Guangzhou on Tuesday September 9, 2008. [China Daily]
A spokesman for the city's environmental bureau told China Daily Thursday that no environmental abnormalities had been found along that section of the river or in adjacent areas.
While local newspaper reports attributed the deaths to a chemical leakage from a factory over the weekend, the spokesman said the bureau has received calls from people claiming to have seen the dead fish being dumped into the river on Monday.
However, local fisherman Gao Shunfu said he saw live fish in the river on Sunday night, but they later died and were floating on the oily water.
The fish must have come into contact with a poison because they were bleeding from the gills and died quickly, he said.
Another fisherman from the village of Shijiao said it might be six months before boats can fish the river again.
The fish were mostly local species of carp. Villagers were warned not to eat or sell them.
A spokesman for the Huadu district government said the dead fish have already been cleared away, and their remains sterilized and buried.