TAIYUAN - The death toll from a rain-triggered mud-rock flow in north China's Shanxi Province rose to 56 as of 6 p.m. on Tuesday, the local rescue headquarters said.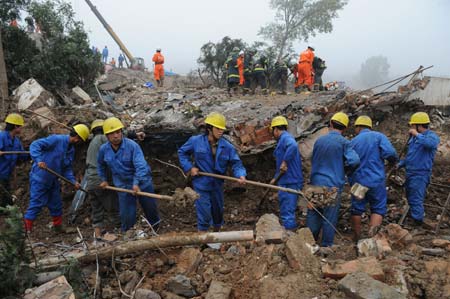 Rescuers search for survivors at the mudslide area in Xiangfen County, North China's Shanxi Province, September 9, 2008. [Xinhua]
Another 35 injured were being treated by five experts and more than 150 medical personnel. Most had suffered fractures and were in stable conditions.
Among the five seriously injured workers, four were transferred to Linfen People's Hospital after operations. But one patient suffering necrosis on the right leg was still in danger as of 8 p.m. on Tuesday, doctors said.
A team of more than 1,550 police, firefighters and people, with 30 cranes and excavators, had participated in the rescue operation.
The rescuers had searched through about 70 percent of the rubble, said Lian Zhendong, a local government official.
But rough terrain, poor telecommunications and continuous rainfall had hampered the rescue effort.
The accident occurred around 8 a.m. on Monday in a pond holding waste ore dregs of the Tashan Mine in Xiangfen County, Linfen City, which was soaked by torrential rain.
The mud-rock flow also destroyed a three-storey office building, a market and some village houses in the valley.