Chinese enterprises, especially small and medium ones, are facing a harder time because of the combined effects of the global slowdown, tight domestic credit, rising costs and an appreciating yuan.
About 67,000 small and medium-sized enterprises (SMEs) went bankrupt throughout China in the first half of the year, according to National Development and Reform Commission (NDRC), the country's top economic planner.


Special coverage:
US Subprime Crisis
Related readings:


China economy 'slowing but resilient'


UNCTAD warns of gloomy outlook for world economy


Economy still in shape - economists


Post-Olympic blues no real threat


Buffett: US economic troubles will continue
Many of those that managed to stay afloat are desperate to cut costs, mainly through worker layoffs.

"Business is poor this year, especially since May," Liu Yongcheng, a senior executive of the Zhejiang Adwin Furniture Co Ltd in east China's coastal province of Zhejiang told China Daily. His company's exports to the United States have plunged, as American consumers tighten their belt amid the deepening housing and credit crisis there. Liu  had to cut his workforce by one-fifth to 400, well below the factory's full capacity.

Large firms fared better, but only by a little. In the first six months, firms listed in the domestic stock market reported a 16.3 percent growth in profits year-on-year, a sharp drop from the 80 percent for the same period last year.
A look at Gross Domestic Product (GDP), the most important gauge of a country's economic performance, tells a similar story. In the April-June period, China's GDP growth slowed to 10.1 percent from almost 12 percent growth achieved last year.
As China's economic growth has declined for four consecutive quarters, many have predicted that growth may drop further in the second half of 2008, as the European Union, the largest destination for Chinese exports, draws closer to a recession.
Traditional wisdom has it that China has to maintain its growth rate above eight percent to keep its workforce employed.
Actually, SMEs employed 75 percent of the country's workforce and created 85 percent of new jobs each year, contributing substantially to the country's economic well-being.
That's why decision makers are coming to the rescue with a host of measures, including encouraging commercial banks to make loans to SMEs by raising their credit quota.
The Beijing authorities have signaled on several occasions that they will give greater weight to keeping stable economic growth, while staying vigilant against inflation. That marked a departure from the official stance, at the begining of the year, of preventing the economy from overheating and preventing price increases developing into full-scale inflation.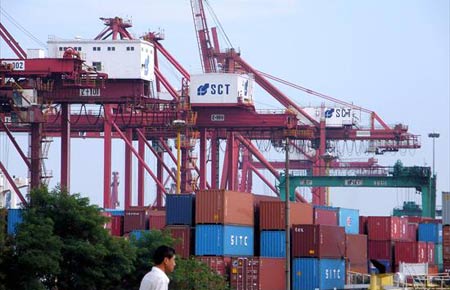 A container pier is seen at a port in Shanghai, in this file photo taken on July 10, 2008. China's exports are actually performing better than previously thought, increasing by 21.9 percent in the first half. [Asianewsphoto]
As part of the efforts to ease pressures on exporters, the central bank slowed down the appreciation of the yuan, which even depreciated against the dollar since the beginning of August.
The deceleration came after the Chinese currency jumped 6.6 percent against the greenback since January and more than 20 percent since July 2005, when China ended the yuan's peg to the US dollar.
A stimulus plan worth billions of dollars was also reported in the pipeline, including tax cuts. However, some economists are debating whether such a firing-up initiative is necessary.
"The economy is not really weak," Huang Yiping, an economist with Citigroup wrote in a research paper recently. "China needed economic stimulus policies during the Asian financial crisis, but it doesn't need them now."
There are also suggestions of a looser monetary policy. The central bank may start to lower the reserve requirement for commercial banks at the year end, according to JP Morgan chief China economist Frank Gong. Calls for a lift of credit control are growing louder.
However, Ben Simpfendorfer, an economist at the Royal Bank of Scotland in Hong Kong, opposed such moves. "It is too early for a change in monetary policy," he said.
Inflation concerns run counter to easing credit. The Consumer Price Index runs at a decade-high level although it declined a little in the past few months. And the Producer Price Index (PPI) jumped to a 12-year high of 10 percent in August. That may lead to a rebound in CPI, as it usually takes four to six months for the PPI to pass on to the CPI.
However, many officials and economists are optimistic about the status of the economy, and have dismissed any reason to panic.
"Our advice is: just calm down," Arthur Kroeber, head of Dragonomics consultancy in Beijing, told the Financial Times recently. "China's economy is basically in fine shape."
Exports, a key driver of China's economy, are actually performing better than previously thought, increasing by 21.9 percent in the first half.
Retail sales were solid with a real growth rate of 15.4 percent in July after adjusting for inflation, the strongest increase in the past 10 years, according to a HSBC report.
Investment, another major driver of economic growth, also fared well. In the first six months, fixed assets investment grew 26.3 percent from a year earlier, compared with 25.9 percent in the same period last year.
China has plenty of investment prospects as it prepares to host the World Expo in Shanghai as well as the Asian Games in Guangzhou in 2010, among many other international events.
In addition, the central government and local governments have much cash at their disposal, which can be spent on building railways, roads, or other infrastructure, thus providing a huge boost to the economy, economists have argued.
They believe the broader prospect for China's economy is strong non-stop growth this year, though uncertainties remain about the outlook for 2009 and beyond.
Li Huiyong of Shenyin Wanguo Securities advocated a dose of medicine to ensure the health of the economy. "A combination of a tightening monetary policy and loose fiscal policy is the solution," he said.
A tightening monetary policy is effective in controlling price rises, while a relaxed fiscal policy will boost government spending and create jobs, just what China needs at its present stage when it faces the risk of stagflation, Li explained.