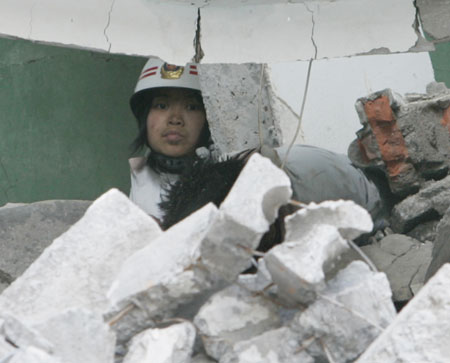 High-school student Yang Liu, wearing a helmet given by a rescuer, has her legs are trapped under concrete in the rubble of a collapsed school in the township of Hanwang in Mianzhu city in Sichuan province May 14, 2008. [Agencies]
Poor design, substandard materials and other defects could have caused many school buildings to collapse in the May 12 earthquake, an official said Thursday.
A rush to build schools in recent years might have led to the construction flaws, Ma Zongjin, director of the National Wenchuan Earthquake Expert Committee, told a press conference, organized by the State Council Information Office.
Many people suspect substandard materials were used to build the schools that collapsed in the 8.0-magnitude Wenchuan earthquake that killed about 70,000 people, including thousands of students.
Related readings:

 Collapse of schools to be probed


 Provincial authority outlines school collapse reasons


 Beichuan school collapse comes under spotlight
Several factors, such as the intensity of the quake and poor design, might have combined to cause the destruction and damage to thousands of school buildings, Ma said. For example, many of the buildings' roofs were too wide to withstand strong quakes.
The Ministry of Construction has sent more than 2,000 experts to the quake-hit areas to investigate the cause of the collapse, Ma said, and the results would provide guidelines for reconstruction of schools and hospitals.
"The earthquake was so powerful that schools and office and residential buildings all (collapsed or) were damaged.
"But poor design and substandard building materials might also have played a role in the destruction," he said.
China's worst natural disaster in three decades has left about 18,300 people missing and 5 million homeless, Shi Peijun, vice-director of the Wenchuan Earthquake Expert Committee, said.
The quake has caused a direct economic loss of 841.5 billion yuan ($122.7 billion), with Sichuan province accounting for about 91 percent of that, Shi said. Its neighboring provinces of Gansu and Shaanxi accounted for 5.8 and 2.9 percent of the loss.
Ma warned that strong aftershocks could continue, but there is little possibility of any of them being 6.5 magnitude or stronger.
Up to 27,000 aftershocks had been recorded till noon on Monday, 112 days after the quake. Eight of them were stronger than magnitude-6, and 39 above 5, he said.
The strongest aftershock, measuring 6.4 magnitude, struck Qingchuan county, one of the worst-hit areas in Sichuan, on May 25.
The Wenchuan quake has caused about 12,000 geological disasters, and 8,700 sites are still vulnerable to more damage. The quake caused many landslides and mud-rock flows, and 30 lakes could still break their banks and overflow downhill into villages and towns.
According to government estimates, rebuilding structures and restoring jobs and services in the quake-hit areas could take up to three years.
Xinhua contributed to the story