JINAN: The European Union (EU) has lifted an import ban on Chinese meat and poultry products.
On Tuesday, nine companies in Shandong province were given permission to export their heat-treated products.
The EU banned the import of Chinese meat and poultry products in 2004 following the outbreak of bird flu on the mainland.
"The EU reopened its markets to the Shandong companies following a study. It is good news for Chinese producers and especially for farmers," an official with the Shandong provincial department of foreign trade, said.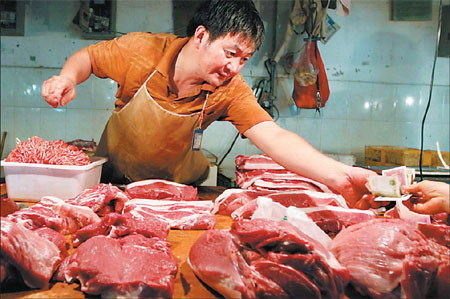 A Beijing butcher serves a customer at his pork stall on Tuesday September 2 2008. [Agencies]
The official estimated that China's annual export of the products will be 100,000 tons worth $1 billion.
The EU study covered producers in Shandong, Shanghai and other cities in northeastern China.
"The lifting of the ban on Shandong companies will now allow them to have even greater access to overseas markets," the official said.
Shandong authorities had made strenuous efforts to regain access to the EU market, an official with the province's bureau of entry-exit inspection and quarantine, said.
The Shandong authorities studied EU regulations on the import of meat and poultry products, and translated them into Chinese to help manufacturers and farmers, he said.
"The EU on its part, carried out studies in Shandong on drug residue, bird flu prevention, sanitation during heat treatment, and other related issues," the official said.
A statement issued by the European Commission July 30, read: "Several inspection missions carried out by the commission's services in China showed that the competent authorities in China, in particular in the province of Shandong, are sufficiently well structured to deal with animal health issues."
Quality control manager of Xinchang Meat Co Ltd, Lu Yongshen, said: "Today, the firm is capable of detecting a drop of nitrofuran in a swimming pool."
Nitrofurans are antibiotic drugs widely used in the production of animal feed.
Xinchang's products are labeled with information on production date, place of origin, abbotior and farm. It enables the company to trace the source immediately in case of a problem.
Shandong exported $430 million worth of meat and poultry products last year, accounting for half of the national figure.
Xinhua