Avant-garde or plain bizarre? Shanghai art lovers can decide for themselves when they view eight live pigs bearing tattoos at the Shanghai Contemporary Art Fair starting Monday.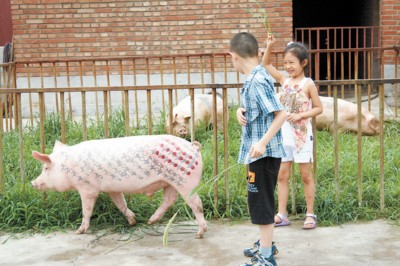 Children play with a tattooed pig raised by Belgian conceptual artist Wim Delvoye at a farm near Beijing. [news365.com.cn] 
The tattooed pigs, two of them with Louis Vuitton logos, will form part of an exhibit titled "Art Farm" by 43-year-old Belgian conceptual artist Wim Delvoye.
The artist has often generated controversy with his unconventional projects.
Delvoye had tattooed the designs on the animals when they were piglets and tracked the "canvases" as they grew.
The stage is now set for these unique exhibits in Shanghai. A large pigsty will be set up at the fountain square of Shanghai Exhibition Center, where the eight pigs will be put up for display.
Delvoye brought the pigs from Europe and has kept them in a farm near Beijing. They were displayed at a Beijing art show, triggering widespread concern and controversy.
The live pigs will not be sold now since they are "artistic works," but their skin could be auctioned at a high price after the pigs' death, according to Tian Tian of Xin Beijing Art Gallery. The gallery is acting as the agent for "Art Farm."
Agent Tian Tian said the eight pigs will be airlifted to Shanghai on September 8.