CHENGDU: Thirty-two people have died, more than 400 injured and over 100,000 homes destroyed or damaged after an earthquake hit Sichuan and Yunnan provinces around 4:30 pm on Saturday.
The epicenter of the 6.1-magnitude quake, which has affected 500,000 people, was about 30 km southeast of Panzhihua city, near the Sichuan-Yunnan border, the China Earthquake Administration (CEA) said.
Kunming, provincial capital of Yunnan, too has suffered some damage.
The quake was followed by a 5.6-magnitude aftershock Sunday, but there were no reports of further damage.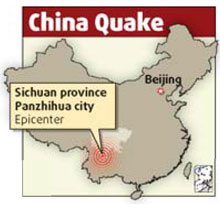 Altogether, 656 schools have been damaged, and heavy rain, difficult terrain and disruptions in mobile telephone communications are hampering rescue efforts, officials said. The injured are being treated in makeshift tents, though.
Among the worst-hit areas are Panzhihua and Huili, both in Sichuan, and the Yi autonomous prefecture of Chuxiong, Bai autonomous prefecture of Dali and Zhaotong city in Yunnan.
Most of the deaths were reported from Huili in Liangshan, followed by Chuxiong and Panzhihua. The three are on the southern end of the fault line of the devastating May 12 quake that killed 69,226 people, and left 17,923 missing and 374,643 injured.
Liu Jie, chief forecaster of the Chinese Seismographic Information Center, said another 6-plus magnitude quake was not expected to hit the area in the next two weeks.
Scientists, however, had recorded more than 300 aftershocks till 5 am Sunday.
Panzhihua's office for the emergency response said preliminary investigations showed three people were killed and 65 injured. The city's quake control and relief headquarters said 363 houses were destroyed and 38,062 damaged, as were seven reservoirs, 22 highways and three bridges.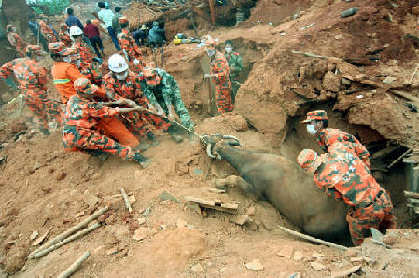 Firefighters try to rescue a buffalo from debris in quake-hit Panzhihua, Sichuan province Sunday August 31 2008. [Xinhua]
Jing Peilang, a Panzhihua quake control and relief official, said more than 40 primary and middle schools would not open for the new semester that starts today.
In Yunnan, about 440,000 people have been hit by the quake in four of its regions .
The CEA has sent rescue and relief teams to the quake-hit areas, and the Ministry of Civil Affairs has activated an emergency response mechanism.
Panzhihua's government officials have dispatched relief materials to the quake-hit areas.
Authorities have mobilized 2,000 rescue and relief workers in Huili, and sent 1,200 tents and 10 tons of food and water to the affected areas.
And the Yunnan provincial bureau of civil affairs has dispatched 3,200 tents, 1,000 quilts, 25 tons of rice and other relief materials.