A Chinese woman working at Germany's DW-Radio has been suspended from her job following remarks she made in the media on human rights and other issues in China, the German press has reported.
Four days before the opening of the Beijing Olympics, Zhang Danhong, an editor with the German broadcaster's Chinese program, reportedly said that "The Communist Party of China has more than any political force in the world implemented Article 3 of the Declaration of Human Rights", referring to the Chinese authorities pulling more than 400 million people out of poverty.
Similarly, in a TV talk show in late July, Zhang reportedly said the Chinese government had done a lot to protect local culture in Tibet and criticized German Chancellor Angela Merkel for sapping relations with Beijing.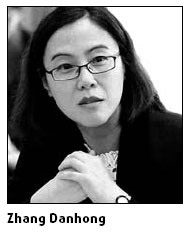 The German media is said to have reacted strongly to Zhang's remarks.
On Aug 11, German magazine Focus attacked Zhang as someone who was "courting" China's Communist Party. On Aug 20, the Berliner Zeitung newspaper quoted parliamentary representative Dieter Wiefelsputz as saying that Zhang's performance was a "catastrophe".
Two days later, the same newspaper confirmed Zhang's suspension from work.
Zhang, 42, was born in Beijing, studied German in Peking University and in Cologne, Germany.
She became an editor of DW-Radio's Chinese program in 1990 and was promoted deputy editorial director of the program in 2004, the broadcaster's website read.
Many in China have voiced sympathy and concern for Zhang after the incident.
Related readings:


 FM comments on Chinese journalist's suspension by German broadcaster


 China expresses dissatisfaction with US human rights remarks


 China makes achievement in human rights protection


 China's human rights improvement self-directed


Experts refute Western criticism of Tibet's human rights
"The case proves that those who chant human rights and freedom of speech everyday in the West are so hypocritical," a Chinese netizen wrote on major Chinese portal, Sina.com.
"The Cold War mentality, ideological biases, political prejudice, and sense of racial superiority these things are deeply rooted in some parts of the Western world. Luckily, China is not bothered by these," wrote another netizen.
"I have noticed related information and I have read the reports Zhang had done," China's Foreign Ministry spokesman Qin Gang said Thursday.
"We hold that the media should report under an objective and just principle."
Zhang and DW-Radio were not available for comment at press time.