Most of their elders call China's balinghou (post-'80s generation) selfish, apathetic and materialistic.
Like many people her age, 19-year-old Cao Si from Hunan doesn't like the stereotype. Still, she admits: "It's kind of true."
Cao puts it this way: "If someone from my generation gets two apples, they will eat them. If someone from my mother's generation gets two apples, they will save them both to give to their children."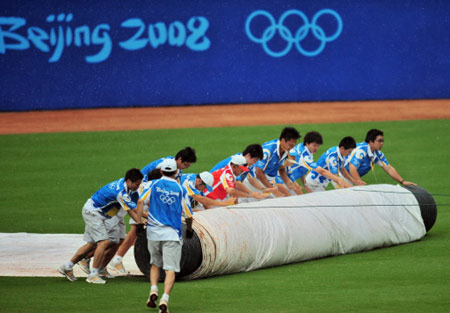 Olympic volunteers roll out the tarp to cover the field during a rain delay in the men's preliminary baseball  game during the 2008 Beijing Olympic Games on August 14, 2008. [Agencies]
The point is, either way the balinghou end up with both apples - and believing they deserve them.
China's "Me Generation" was born after the 1979 adoption of the one-child policy and was hyperactively doted on, leading to the "little emperor" and "little princess" syndromes. They then came of age during the country's opening-up and economic miracle.
Such forces have thrust wedges between China's youth and their elders that have stretched the generation gap into a generation gulf.
"Our generation believes we should live easily in this world," Cao says. That means spending money on fun and luxuries - fashionable clothes, magazines, nights out - never dreamed of by their impoverished elders.
"If I earn 100 yuan ($14), maybe I'll save 40 and spend 60. If my mother earns 100 yuan, maybe she'll spend 40 and save 60."
Spendthrift consumption is all the easier for the younger generation since they haven't earned the cash, explains 22-year-old Guangzhou student Zhong Jinfeng.
"Many people born after the '80s and '90s don't have to go to work," he says. "They just spend their parents' money because they don't know how hard it is to make."
As 51-year-old Xu Yihe says: "This generation has been more protected by their parents and enjoyed more material comforts."
But China's 20-somethings are getting a harsh wake-up call as they're pushed from their coddling families into the real world, a transition 23-year-old news agency editor Zuo Yuanfeng calls "a hard journey".
China's rat race is being accelerated by market reforms, increased university enrollment, fewer jobs and the growth of the younger-than-29 demographic, which currently accounts for about 45 percent of the population, according to the National Bureau of Statistics (NBS).
"It's too fast, and every day we must face competition if we want to have a good life," Cao says.
NBS estimates suggest that by 2015, the number of Chinese younger than 30 will surge by 61 percent to 500 million people - more than the current population of the entire European Union.
As 19-year-old Zhang Rong points out, the pressure is compounded by parents' expectations that their only children will care for them after retirement.
"In my family, there are only three people but in my mom's family, there were a lot of brothers and sisters, so if one could get a job, they could feed them all," the student from the Inner Mongolia autonomous region says.
"So I have to consider how much money I must earn to support my family every month."
China's National Committee on Ageing estimates the country will have more than 174 million residents older than 60 by 2010, most of whom will be cared for by only children.
Many balinghou say the fact they've had it easier than their elders doesn't mean they've had it easy.
"It's a challenge - the pressure - and with globalization, so many new things are emerging, so the younger generation has had to do a lot to both absorb these and protect themselves from these," Zuo says.
Some resent the perception that their lives are cushy, as portrayed in popular TV series, such as Fen Dou (Starting From Scratch), which follows the lives of seven friends in their 20s. "Everyone who's not balinghou thinks that's what balinghou are like but our lives aren't like that," says a 24-year-old Beijing Youth Daily editor, who would only give her surname, Xie.
The series' scriptwriter, 49-year-old Shi Kang, says he tries to avoid perpetuating stereotypes, and Fen Dou is more about youth in general than balinghou in particular.
"I appreciate many of the balinghou's traits: They're ambitious, aggressive and very capable," he says.
Xie still believes the series sends out the wrong message. "We really know what Fen Dou (also translated as 'working hard') is about," she insists.
"Our lives aren't as tough as our parents' have been but it's not that different. Mostly, the type of difficulties we have are different."
And sometimes such dissimilarities lead to intergenerational clashes.
"We don't understand each other on many issues and I have found myself avoiding communication with the older generation, even at work," Zuo says.
However, he says that both generations often work to figure out what makes the other tick.
"The younger generation is trying to learn to be more mature and courteous, while the older generation, like my father and mother, is trying to have a younger mind."
Zuo says the biggest difference in the way he would raise his child would be to provide "more choices and the confidence to be themselves".
"I don't care if they are different from the mainstream, if they are minorities or are homosexual or bisexual," he says.
But many balinghou are quick to point out the generation gap they encounter isn't only between them and their seniors.
Because of the speed of change in China, they often have trouble understanding the mindset of their juniors, the jiulinghou (post-'90s generation).
"Their ideas about society, family, responsibility to family are so different," Xie says.
"They'll make themselves comfortable first, and then, if it's convenient, they'll make others comfortable. If balinghou did this, we would feel a little guilty."
She says she recently took a multigenerational delegation on an all-expenses-paid trip to the United Kingdom. The jiulinghou complained about staying in the same five-star hotel every day. Then, when they did switch hotels, Xie says the jiulinghou complained the new one wasn't as nice as the first.
When they complained about being served burgers rather than pizza, a balinghou organizer scolded them.
Zhong also says he has trouble relating to the jiulinghou, and even some balinghou who are two or three years his junior, especially on sex.
"Sex is much more casual for people who are younger than me," Zhong says. "I think love is more important than sex, and I think the younger generation is more open with it and just doesn't care."
But balinghou are also divided among themselves on romantic relationships. "My generation is so used to dating they think of it like having meals," Zuo says. "My father and mother think of dating like getting married."
Xu says that if couples were to even walk hand in hand until the '80s, "people would point fingers", but "today, people kiss in the streets".
He also says many older people began reassessing the balinghou after seeing their "enthusiasm and patriotism" following the Sichuan earthquake. He recalls once seeing a group of 20-somethings in a Beijing street - one was tearful - with donation boxes and a banner reading: "We were born after the 1980s. Can you trust us?"
He says he had "mixed feelings" about their motivations.
Cao believes the very breakneck speed of transformation that created such a generation chasm can also help people overcome them.
"China is a developing country," she says, "and we will continue to accept more and more new things all of the time."