It's not everyday that an immigrant family makes it big even in the "land of plenty". But the Chao family has made it. US Secretary of Labor Elaine Chao took part in China Daily online dialogue Monday to share the story of her family's struggle with Chinese netizens.
In town as head of the US presidential delegation at the closing ceremony of the Beijing Olympics, Chao said in a lighter vein: "President (George W.) Bush brought his father to Beijing, so I brought my father too."
Her father, James Chao, too participated in the session.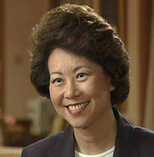 Elaine Chao
Elaine Chao, the first Chinese American in the US cabinet, is a popular figure in China. Netizens and mobile phone users asked her thousands of questions, ranging from China's culture to the competition between Chinese and American workers for jobs. But her family's struggle after migrating to the US was the most common one.
Elaine Chao was born in Taipei in 1953 and migrated with her family to the US when she was eight. "My family has six girls and I attribute a lot of its achievements to my parents," she said.
She recounted the difficulties the family members faced in the early years of their migration when they had little knowledge about the US.
"But my parents never gave up hope. They were always optimistic, forward thinking Being children of such parents, one can't help but try to do one's best to be worthy of their devotion," she said.
James Chao, too, shared his experience with the netizens. He said his wife wanted to see all her children get the best of education.
Describing Sunday's closing ceremony as "spectacular", Elaine Chao said the road China has taken merits attention. "I was here in 1979. China has made tremendous progress since then," she said.
"I wish everyone interested in China or in China-US relations would take this journey from 1979 to 2008 with China."