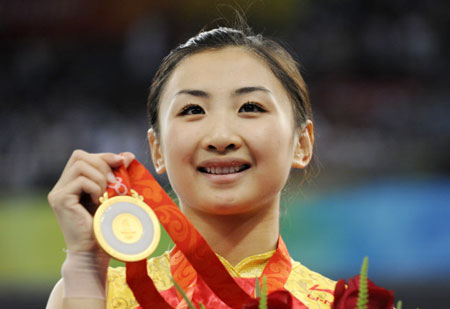 He Wenna shows her gold medal after the women's trampoline final of the artistic gymnastics event of the Beijing 2008 Olympic Games in Beijing on August 18, 2008. [Agencies]
One day after her daughter won an Olympic gold medal, Lai Xiuhong still could not hold in her excitement and was telling everyone the details of her daughter's stunning trampoline performance.
"It's her first Olympic Games. I am really exited that she could outshine the competition and win the gold. Her performance was beautiful, elegant, and technically difficult," Lai said proudly.
Her daughter, He Wenna, won China's first Olympic trampoline gold on Monday night in Beijing.
Trampoline is one of the newest sport events in China, and a national team was set up only in 2002. Cashing on China's prowess in competitive gymnastics, trampoline developed very fast in China. When China participated in World Championship in 2003, the team won silver. At the 2004 Athens Olympic Games, Huang Shanshan won an individual bronze medal.
He Wenna's gold is the third won by athletes from Longyan, east China's Fujian Province. The other two were Zhang Xianglin in 62-kg men's weightlifting and Lin Dan in badminton men's singles.
Lai Xiuhong said athletes from Longyan, a mountainous region, are strong willed and could tolerate difficulties and hardships. This could be one of the keys to their successes.
He Wenna, a Kakka, was born on January 19, 1989. Lai said it was a coincidence that her daughter's begun playing competitive sports. "He Wenna was a tiny and weak when she was in the kindergarten, so I sent her to a local sports school to improve her health conditions."
The coaches at the school found she had a gift for gymnastics, and she was sent to the provincial team for training in 1995. At the team, she switched to trampoline in 1998. In 2002, He Wenna joined to the national trampoline team.
And at the Beijing Olympic Games, her years' of effort and training paid off, winning the country's first Olympic trampoline gold.
Longyan, in the west of Fujian Province, is known as the birthplace of outstanding athletes in events like weightlifting, badminton and trampoline. Now, over 10 athletes from Longyan are members of the national teams. Since 1997, Longyan athletes have won 21 world championships.