Fewer Chinese children are available for adoption by foreigners because more affluent families at home have started adopting them, the Ministry of Civil Affairs (MCA) said on Tuesday.
"The number of Chinese couples applying to adopt children has risen substantially in recent years," said Wang Suying, a division chief of MCA's social welfare and social affairs department, which oversees adoption.
Related readings:

 China considering registration of adoption offers


 Adoption applications flood in


 Adoption rules well received


 China denies adoption prejudice
About 52,500 children were registered for adoption in 2004, with foreigners adopting 12,500 of them, according to MCA figures. But last year, the numbers fell to about 46,000 and 10,000.
"Our policy is in line with the international practice of encouraging adoption by families within the country," Wang said, because that way the kids can grow up in their own culture, which is good for them.
"But that does not mean we have any prejudice against foreign adoptions."
More families in the country are adopting kids because Chinese people's attitude toward adoption has changed, Wang said.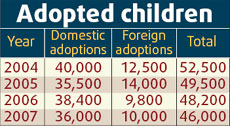 A lot of Chinese used to adopt kids to ensure someone was there to take care of them during their retired life, and hence they preferred boys to girls, she said.
"Now more and more Chinese people are adopting kids simply because they love children and are proud to become foster parents."
Ji Gang, director of domestic adoptions, China Center of Adoption Affairs, said Chinese families' newly acquired affluence too was responsible for the change in attitude.
Chinese Academy of Social Sciences figures show China has 30 million middle-class people, or those who earn between $10,000 and $50,000 a year.
Wang, however, said foreign families are still more willing to adopt disabled children.
US families adopted the highest number of Chinese children, followed by the Spanish.
Since 1992, when China's Adoption Law was implemented, US families have adopted more than 55,000 Chinese kids.
From May 2007, China tightened the rules for foreigners who wanted to adopt Chinese children.
To qualify as an eligible family, couples now need to have a stable marriage, comfortable income, and sound physical and mental health.
According to China's Adoption Law, people who want to adopt children must be more than 30 years old, healthy, childless and with a good and steady income to raise and educate the children.