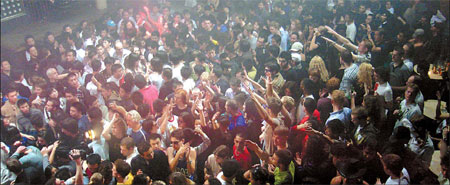 Han Li's cover is about to be blown!
The 25-year-old graphic designer from Fujian province says she would "never dare" tell her parents what she gets up to in Beijing after work.
"My parents were poor farmers; their lives were full of hardship," she says. "But I want a more glamorous life. I work hard and play hard, too."
Han's passion for the capital's bars and clubs might shock the folks back home, but she epitomizes China's young adults at the dawn of the 21st century.
The daily grind of chasing dreams and money brings an equally intense desire to "chill out", and Beijing's spectacular nightlife is a seduction few can resist.
A dissonant rumbling of dance beats and the glare of neon lights emanates from the hive of nightclubs flanking Beijing's Gongti Ximen.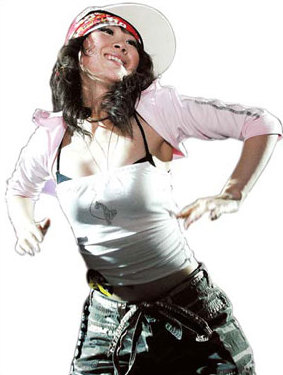 Nightlife lovers find escape from the pressures of work in Beijing clubs. Photos by  Erik Nilsson and clubzone.cn
A honking line of taxis, punctuated by the occasional Mercedes-Benz, Audi and Ferrari, creeps along the street in front of the chockablock strip of nightspots, while the sidewalk roils with crowds of clubbers.
It's a quarter to midnight on a Tuesday, and 26-year-old Sichuan native Chen Ye and her friends are here to "play".
"In China, we face so much pressure at work, pleasing our bosses, keeping good face and expanding client relationships, that we need to go out with friends and blow off steam," the advertising firm project manager says. "That's why I love nightlife; it's where I can escape and have fun."
Chen has joined the swelling ranks of mostly young and moneyed Chinese finding solace from the stress, and relishing in the glamour, of the country's fast-paced modernization in its emerging nightlife scene.
"I like it because it's loud, crowded and exciting," Chen says. "I can be fashionable but don't have to care what anyone thinks and can act a little crazy if I want."
China's burgeoning nightlife scene - largely yet confined to its major metropolises - is still relatively young. Many industry insiders attribute its rapid development in recent years to a growth spurt marking the end of its turbulent teens.
Beijing's scene was born 17 years ago near Gongti Dongmen, when American Frank Siegel poured the first drink at Frank's Place, the city's first non-hotel bar. The nightspot was packed with an exclusively expatriate crowd who settled tabs with fistfuls of foreign exchange certificates, as non-nationals weren't then allowed to use Chinese currency.
"When I opened Frank's Place, it was a slam dunk," the 51-year-old from Newcastle, Pennsylvania says. "We got busy and stayed busy for about five years until there were other options."
The success of Frank's Place opened the capital's floodgates to a slew of new watering holes. Starting with Club Nightman's 1994 opening, nightclubs began popping up around the city.