BEIJING, Aug. 13 -- A huge snail from Africa, as big as a child's fist, was discovered in Jiangyan street in Fuzhou, southeast Fujian province on Tuesday, Strait News reports.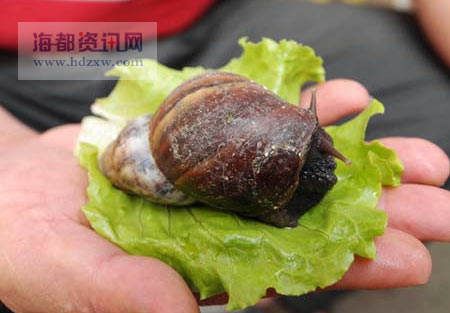 A file photo of a huge snail from Africa discovered in Jiangyan street in Fuzhou, Fujian province. [hdzxw.com] 
Ecologist explained that the snail might have accidentally reached China through an import shipment in the 1930s. The snail spotted recently may be abandoned ones from local restaurants.
The snail can consume fruit or vegetables in large amount and is harmful to the local agricultural industry.
Those who eat fruit or vegetables touched by the African snails, which hosts pathogenic bacteria and parasites, may run the risk of being infected with tuberculosis and meningitis.
Experts warn people to stay clear of the snail.