BEIJING -- Gong Wang Fu, Beijing's largest and best preserved princely home, will open to the public on Aug 20 after 2.5 years of renovation.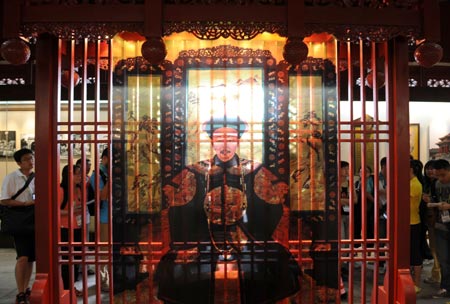 Photo taken on August 11, 2008 shows a portray of Heshen in a traditional Chinese room in Gong Wang Fu in Beijing, capital of China. The 232-year-old Gong Wang Fu, China's largest and best-preserved Qing Dynasty mansion, will open to the public for the first time on August 20, 2008 after 31 months of restoration. The mansion was constructed around 1776 and was originally the private residence of Heshen, a member of imperial court of Emperor Qianlong (1736-1796) in the Qing Dynasty (1644--1911). The mansion consists of residential quaters covering 32,000 square meters and a 28,000-square-meter garden. [Xinhua] 
The mansion is divided into a residential area and a garden. The area to be open next week is the residential portion with an area of 32,000 square meters.
The garden, covering a 28,000-square-meter area, opened to the public in 1988.
The grand mansion, located along the scenic Rear Lake north of the Forbidden City, was built in 1776 as the residence of Heshen, a privileged minister favored by Emperor Qianlong (1711-1799). It later became the home for several princes.
"The mansion was restored to the way it was in the late 1800s in its prime," said Sun Xuguang, deputy director of the mansion's administration. "We used traditional techniques and materials to repair it."
He said it took six months to reproduce the tile inlaid on the living room floor in the way people did 200 years ago.
About 9,800 square meters of existing buildings were also renovated and craftsmen built another 2,200 square meters of buildings according to historic records of their original sites in their original shape, he said.
The whole restoration project cost about 200 million yuan ($29.1million ).
Besides the architecture, the mansion museum also displays a collection of pictures and documents about princes of the Qing Dynasty (1644-1911), antique furniture, royal fashion, porcelain and other daily appliances.
Most of the mansion's furniture and treasures were either seized or sold over the past 100 years. About 2,000 pieces of cultural relics from the mansion were kept in museums abroad, Sun said.
"We are trying to buy some of them back or copy others."