BEIJING -- Chinese President Hu Jintao on Friday thanked the international community for their support to the Beijing Olympics and their assistance to the country after the May 12 earthquake.
Addressing a welcoming luncheon in honor of world dignitaries who are here to attend the Olympic opening ceremony, Hu said that in the course of bidding and preparing for the Games, the Chinese government and people received sincere help from governments and people of various countries, as well as strong support from the International Olympic Committee (IOC) and the Olympic Family.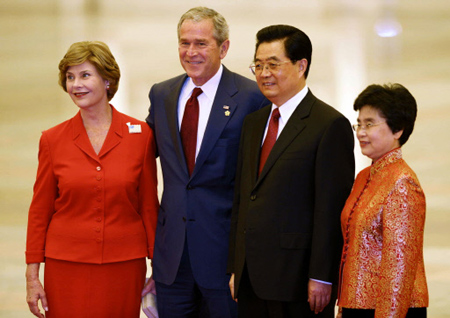 Chinese President Hu Jintao (2nd R) and his wife Liu Yongqing (R) pose for a photo with US President George W. Bush (2nd L) and First Lady Laura Bush before a reception at the Great Hall of the People in Beijing on August 8, 2008. [Agencies]
"I would like to express heartfelt thanks to you and, through you, to all those who have contributed to the Beijing Olympic Games," he said in the toast.
"I also wish to take this opportunity to sincerely thank the international community for the warm support and valuable assistance given to China in our rescue and relief efforts after the devastating Wenchuan earthquake," he said.
"The Chinese people will remember forever the profound friendship of people throughout the world," he said.
The Beijing Olympics will kick off on Friday evening. More than 80 state leaders and royals are here to attend the opening ceremony and related events.
Related readings:


 Hu meets 11 foreign leaders


 Hu meets foreign counterparts ahead of Beijing Games


 China to honor commitment and host high-level Olympics - Hu
"The historic moment we have all been waiting for will soon arrive," Hu said. "On behalf of the Chinese government and people, I wish to extent a warm welcome to all the distinguished guests who have come to Beijing for the Games."
"Since Beijing won the bid in 2001, the Chinese government and people have been working earnestly to honor the solemn commitment we have made to the international community," Hu said.
Guided by the concept of "green Olympics, high-tech Olympics and people's Olympics," the Chinese people have done their utmost in the preparations for the Games, Hu said.
"I am confident that, with the support of the International Olympic Committee (IOC) and the Olympic Family, and together with you, we will deliver a high-standard Olympic Games with distinctive feature," the president added.
He proposed a toast to the strong growth of the Olympic Movement, to greater solidarity and friendship among people from all over the world, and to the health of all the distinguished guests and their families.