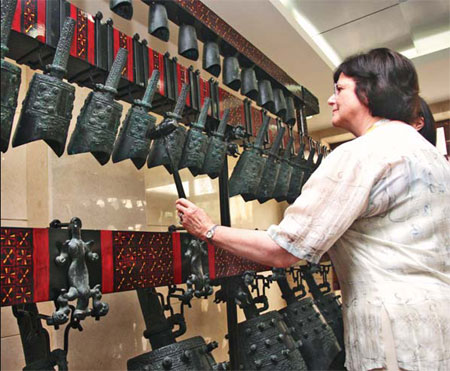 Sound of music: Anne Rogge, wife of Jacques Rogge, president of the International Olympic Committee, strikes bianzhong (ancient bells) yesterday during a visit to Beijing No 4 Middle School. Wen Zhao
The Beijing Organizing Committee for the 2008 Olympics (BOCOG) apologized for a misunderstanding between its security personnel and reporters yesterday.
It clarified the accreditation rights of journalists to enter the Main Press Center (MPC) and the International Broadcast Center (IBC).
A group of accredited journalists and broadcasters were denied entry to the MPC and IBC because their credentials did not bear a special mark.
Hours after the incident, Liu Shaowu, director of BOCOG's security department, held a press conference to apologize to the media.
He said it was caused by a misunderstanding of BOCOG's temporary security policy.
"For safety of the opening ceremony, we introduced a temporary access policy to tighten security checks in areas around the Bird's Nest.
That is, in an addition to their credentials, people also need a special sticker on their accreditation card for entering the Olympic Green common domain, excluding the MPC and IBC.
The period is from yesterday afternoon to all day today.
"However, when the policy was put into effect, some security guards thought it also applied to admission to the MPC and IBC," Liu said.
"We sincerely apologize to all of you for our fault and we promise that such problems will not happen again," he said.
(China Daily 08/08/2008 page6)