China's consumer inflation may continue to decline in July, marking the second consecutive month this year that it has dropped, according to economists' estimates.
That may mean a departure from the rising spiral of inflation after it peaked at an annualized 8.7 percent in February.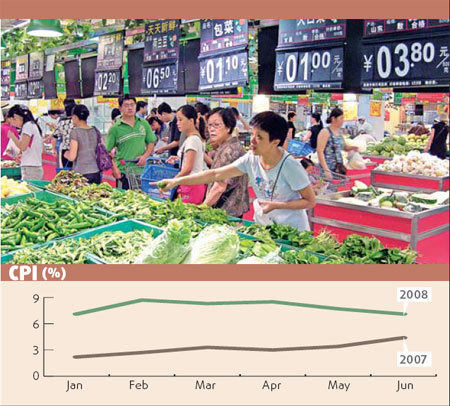 Lehman Brothers economist Sun Mingchun said his team's research found the July consumer price index (CPI), the main barometer of inflation, may drop to 6.7 percent year-on-year from 7.1 percent in June.
The domestic Bank of Communications research arm said the figure could fall at 6.4 percent, which is also the estimate of Southwest Securities.
One of the reasons why prices are stable is that there has been no flooding, a regular feature of the rainy seaon, said Sun of Lehman Brothers.
Daily price data from the Ministry of Agriculture and the National Development and Reform Commission show that agricultural product prices rose only slightly in July while meat prices fell. Weekly price data released by the Ministry of Commerce also showed a moderate decline in food prices.
The relatively high statistical base of last July also contributed to the drop in inflation this July, said Guo Tianyong, economist with the Central University of Finance and Economics.
China's CPI hit 5.6 percent year-on-year last July, the first time it reached the 5-percent level that year.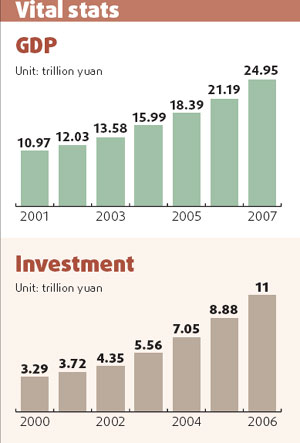 "If no major natural disaster hits China in August, CPI could fall below 6 percent in August, providing more room for the government to remove its price controls," said Sun.
Economists said that without many unexpected incidence, it will gradually ease to around 5 percent by the year-end.
A possible price liberalization of oil products, however, should not be a one-off adjustment, which will put a huge pressure on the country's battle against inflation, Guo said.
China raised the prices of oil products and electricity late June. Analysts said that once the inflation pressure eases, policymakers may start a second round of price liberalization, which may lead to a rebound in CPI.
If such liberalization moves are indeed made, they should be done in phases, not in one go, said Guo. Only that will ensure inflation does not peak again, as it did in February.
The pressure from the rising producer price index (PPI), which gauges ex-factory prices and influences CPI, may be a concern, but even taking into consideration its impact, consumer inflation may no longer exceed the February peak in the coming months and the first half of next year
"The worst times are behind us," said Dong Xianan, macroeconomic analyst with Southwest Securities.
"From the second half of last year, the tightenting stance had been obvious, which is a pre-emptive move to ensure the current easing of inflation."
Macroeconomic growth
The economic growth may gradually slow down in the rest of the year, analysts said, but the fine-tuning of policies would shore it up.
Dong from Southwest Securities forecasts that given the current growth momentum, the whole-year figure for GDP growth may be 10.1 percent, well below the 11.9 percent of last year. Other estimates are around the 10 percent mark.
The global economic slow-down, which reduces external demand for China's exports, will bring much trouble to China, but its domestic consumption and investment will remain stable, analysts said.
More importantly, the central authorities may adjust its tight policies to cater to individual demand of regions and sectors that have found it difficult to survive the tightened policies.