The four US cyclists, who walked out of Beijing airport wearing masks on Tuesday, have apologized for their behavior.
Michael Friedman, Sarah Hammer, Bobby Lea and Jennie Reed issued a statement Wednesday saying: "We offer our sincere apologies to BOCOG, the city of Beijing, and the people of China if our actions were in any way offensive. That was not our intent," the message read.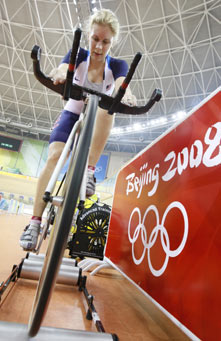 Sarah Hammer of the US trains during a track cycling practice session for the Beijing 2008 Olympic Games, August 6, 2008. [Agencies]
"We deeply regret the nature of our choices. Our decision was not intended to insult BOCOG (Beijing Olympics organization committee) or countless others who have put forth a tremendous amount of effort to improve the air quality in Beijing."
"We look forward to putting this incident behind us while we prepare for our competition next week."
The four athletes, tied by close-fitting black and grey masks which covered their noses and mouths, pushed their handcarts with equipment when passing the Olympic lane at the Capital International Airport along with other members of a US delegation upon arrival two days before the official start of the Games on August 8.
"The air is OK so far and it was just for travel," Jennie Reed who will compete in women's sprint said. The 30-year-old cyclist who races indoors said she will wear the mask at the Games.
Michael Friedman, who also participates in cycling track, said it was "an individual choice" and he was "a little bit " worried about that it may hurt the feeling of some people. "Certainly you don't wanna offend anybody, but you want as best as performance you can. It may not be any risk at all.
"It's all for going for a medal. Maybe there is no reason to wear, just a precaution measure," he added.
The host city of the 29th Olympic Games has been concerned about its air condition for the athletes' health. The Games organizer has repeatedly confirmed that it will be fine for the Games although the city has had several "foggy" days since July 20 when it carried out a car ban to clean up emissions.
Arne Ljungqvist, head of the IOC medical commission, said on Tuesday that basically the air condition in Beijing would not affect the health of athletes and visitors during the Games.
The commission has announced that the air was satisfying in a statement according to an analysis on the air condition of Beijing in last August.
Ljungqvist said the recent mist in Beijing was mainly caused by hot and wet weather which could easily be misunderstood as air pollution.