MACAO - As the tropical storm Kammuri approached Macao Wednesday morning, local public traffic of land, air and sea were mostly stopped.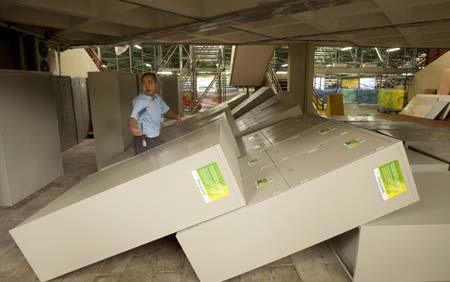 An official walks past lockers knocked over during tropical storm Kammuri at the equestrian venue of the Beijing Olympics in Hong Kong August 6, 2008. [Xinhua]
The Macao Meteorological and Geophysical Bureau (SMG) hoisted the gale signal No. 8 at 7:00 am local time, warning that tropical cyclone Kammuri were detected 90 km south off the coast of Macao at 1:00 pm local time and was moving at a speed of 11 km per hour toward northwest by west.
The SMG also said that Kammuri will be the nearest to Macao in the coming hours, and it has recorded a maximum wind speed of 112 km per hour so far.
Related readings:


 HK stock exchange closed due to tropical storm


 Strong tropical storm Kammuri approaches S China


 Emergency response to tropical storm Kammuri launched


 Chinese provinces issue storm Kammuri warnings
As the storm escalated, the three bridges linking the Macao Peninsula and Taipa island and the one connecting Macao to neighboring Zhuhai of Guangdong province were all closed at 8:30 a.m. this morning.  
Ferry service was also stopped due to the storm. There were a large number of passengers stranded in the departure hall of the city's Outer Harbor, as the ferries they originally schedule to board on were canceled. Some of the ferry operators have offer to give full refund to those who purchased today's ferry tickets.
Meanwhile, most of the city's bus service and flights at the Macao International Airport were either delayed or canceled.
The storm has caused some accidents as the strong wind dragged down many fascia and trees. In a district of the city, a shop's fascia was blown down by the wind and damaged a car parked below it, but no one was injured in the accident.
Bad weather also forced the authorities of some local institutions and schools to cancel their exams scheduled to take place today. Even the city's prison has announced that they will suspend today's prisoner visiting arrangement.
The SMG forecast that Thursday will be cloudy with gentle to fresh gusty winds and heavy showers at times.