The central bank set the mid-point of the yuan's exchange rate lower against the dollar for a fifth consecutive day Tuesday, stoking expectations for more fluctuations in the yuan's exchange rate.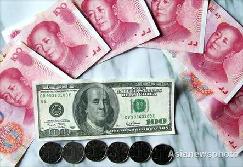 The yuan's central parity rate stood at 6.8501 against the dollar Tuesday. Its traded peak came on July 17, when it was 6.8103 against the dollar.
Last week the yuan registered the largest weekly loss - 257 basis points - since the July 2005 exchange rate reform, which freed the yuan from a dollar peg and allowed it to float within managed bands.
Analysts said the yuan's recent trend shows its previous rapid appreciation has failed to cater to policymakers, who have been fighting inflation but also want to ensure stable economic growth.
The yuan has appreciated by more than 6.6 percent so far this year while it appreciated by 6.9 percent against the dollar for the whole of last year.
While this has contributed to checking inflation, it has also driven many exporters to bankruptcy by increasing the prices of their products denominated in dollar.
"The faster yuan appreciation in the first half doesn't seem to have gained any favors from the market and policymakers," said Chen Xingdong, chief economist of BNP Paribas Peregrine Securities in Beijing.
Chen said the acceleration of the yuan's revaluation has led to expectations of appreciation, influx of speculative capital and has hit the export sector. "It is detrimental to the economy."
As a result, the central bank in its summary released after the second-quarter monetary policy committee meeting, has not mentioned - as it normally does - the use of market mechanism in deciding the value of the yuan. Analysts interpret the move as a sign of a policy shift.
"It indicates the central bank may no longer take yuan appreciation as a tool to fight inflation," said Liu Dongliang, currency analyst with China Merchants Bank.
Policymakers may instead allow the yuan to rise with periodic falls to beat strong market expectations for appreciation, he said.
Liu held that the value of the yuan may continue to rise in the long term, but in the rest of this year, it will rise at most to 6.6 against the dollar. If the macroeconomic situation worsens, there would be substantial swings in the value of the yuan, according to him.
Chen from BNP Paribas Peregrine said the authorities should allow the yuan to fall to beat market expectations, although agreeing with the central bank's view that the yuan's value should be kept "basically stable".