MEXICO CITY - China is likely to lift its two-decade-old ban on people with HIV/AIDS entering the country some time next year, a top Chinese health official said in Mexico City on Tuesday.
Related readings:

HIV/AIDS talks start in Mexico


More AIDS risked as poor women trade sex for food


Global fight against AIDS gets tough


AIDS epidemic 'stabilising', but more funds needed


AIDS hitting Asian gays at high rates


Migrants to get help in AIDS fight


HIV/AIDS prevention policy for gays
"Government agencies, including the Ministry of Health and the General Administration of Quality Supervision, Inspection and Quarantine, have reached consensus on the issue," Hao Yang, deputy director of the ministry's disease control and prevention bureau told China Daily at the 17th International AIDS Conference.
After performing the necessary administrative and legal procedures, "the HIV/AIDS restrictions will be lifted in 2009", he said.
People with HIV/AIDS have long been subjected to discrimination with regard to foreign travel. However, since the 1990s, delegates to the biennial AIDS conference have been calling for such restrictions to be lifted.
Late last month, the United States lifted its ban, leaving 70 countries with some form of restrictions, the International Task Team on HIV-related Travel Restrictions said.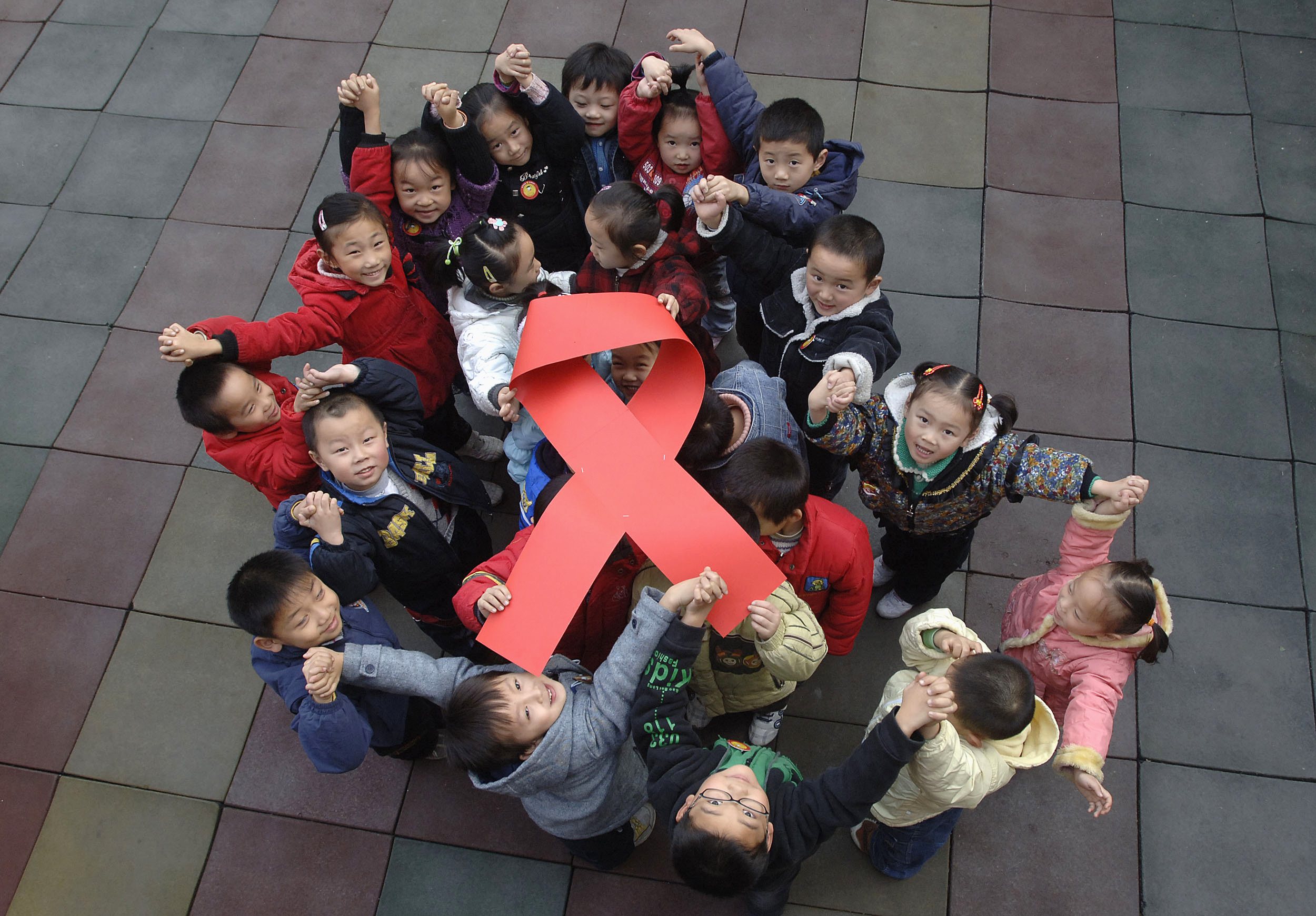 Children pose to raise a red ribbon symbol during an AIDS awareness activity at a kindergarten in Hefei, East China's Anhui Province, November 30, 2007. [Agencies/file photo]
Pedro Cahn, president of the International AIDS Society, said Tuesday: "The restrictions contribute to the stigmatization of people with HIV."
Peter Piot, executive director of UNAIDS, called on all countries to drop their entry restrictions based on HIV.
As early as 1988, the World Health Organization said that as HIV infection was already present in every region of the world, even a total exclusion of all travelers could not prevent the spread of the virus.
China imposed its ban in the late 80s, after it reported its first AIDS case in 1985.
Li Dun, a professor with the Chinese Academy of Social Sciences, said: "At that time, the government thought the restriction would keep the virus outside the county."
Since then, a huge amount of knowledge about HIV/AIDS has been gained and awareness has been raised, so the restriction was reconsidered, Hao said.
Health ministry spokesman Mao Qun'an said in November that a revision of the law on entry restrictions was already under way.
Under current regulations, people seeking to enter China on a short-term basis must declare they are free of HIV at the border.
If they are planning to stay long-term, they must undergo a blood test, and if found to be HIV-positive are refused entry.
However, there have been some exceptions. Competitors at the 1990 Asian Games and delegates to the 1995 World Conference on Women were not required to declare their status.
Similarly, Beijing Olympic Family members are free to enter China even if they have HIV/AIDS, BOCOG spokeswoman Zhu Jing said Tuesday.