BEIJING - US President George W. Bush will formally open the new US Embassy on Friday, the opening day of the Olympics.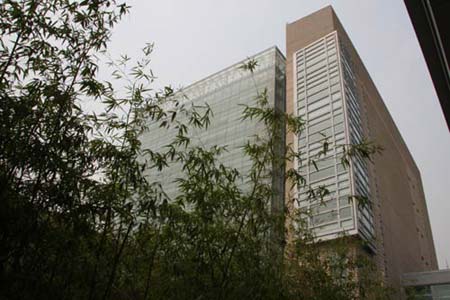 The main chancery building of the new US Embassy compound in Beijing on Tuesday, August 5, 2008. [CRI]
"This is a moment I have long waited for. After more than 15 years of discussions and four and a half years of construction, our magnificent embassy will be officially dedicated by the president," US Ambassador to China Clark Randt told reporters on Tuesday.
Built on 4 hectares in a new diplomatic zone in northeast Beijing, the 46,000-square meter compound is second in size only to the embassy in Baghdad.
"This spectacular new embassy complex will provide the United States government with a platform appropriate for the most important bilateral relationship of the 21st century, the US-China relationship," Randt said.
"Our new embassy, together with the impressive new Chinese embassy in Washington D.C., which was unveiled on July 29, are tangible symbols of the growth and importance of our bilateral relationship," Randt said.
The complex, which cost 434 million US dollars, includes five buildings designed with traditional Chinese elements. All buildings are enclosed in bullet-proof transparent or opaque glass.
"Given the current security environment, it's expensive to use this amount of glass, because we need to design it in such a way that it resists a car bomb attack and other sorts of hostile actions," John Holleran, the project architect, said.
The complex will house a staff of about 1,100 from 26 US agencies who are now working at 22 locations in Beijing. "For the first time, we will be working together in one consolidated and secure operating site," Randt said.
The consular section has been enlarged, which Randt said will permit the embassy to meet the rapidly increasing demand for visas to visit the United States and provide a more comfortable environment for applicants.