BEIJING -- The pulse of China's capital is speeding up with the city's hosting of the Olympic Games only seven days away.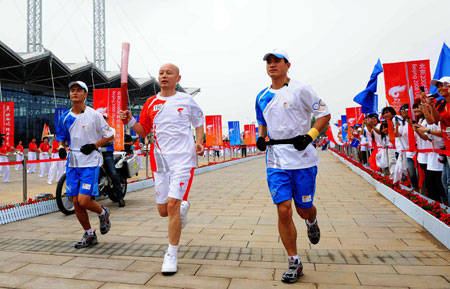 Torchbearer Ge You runs with the torch during the 2008 Beijing Olympic Games torch relay in north China's Olympics co-host city Tianjin, August 1, 2008. [Xinhua]
The Olympic torch arrived in Tianjin, about 137 km away from its final destination on Friday. By coincidence, it was 100 years ago at an inter-college games in Tianjin that Zhang Boling, then a famed education expert, first argued China should form a sports delegation to attend the Olympic Games.
After his speech, the local magazine Tianjin Youth put out an article posing several questions: "When can China send an athlete to attend the Olympics? When can China send a sport delegation to the Olympics? When can China host an Olympic Games?"
Related readings:


High-speed Beijing-Tianjin rail opens


Soccer enthusiasm warming in Tianjin


Beijing-Tianjin rail starts ticket sales


 'Water Drop' – Tianjin Olympic Center Stadium
They have all been answered now.
The torch will take another seven days to reach the National Stadium, or the "Bird's Nest," but passengers from Tianjin can arrive in the capital in 30 minutes.
The Beijing-Tianjin Intercity Railway, the world's fastest with passenger trains running at 350 km per hour, started operation on Friday. It cuts the 70-minute journey between the Olympic host city and co-host by more than half.
The service shuttles spectators, athletes, media people and other passengers to and from Tianjin which is holding 12 Olympic football matches from Aug. 6 to Aug. 15.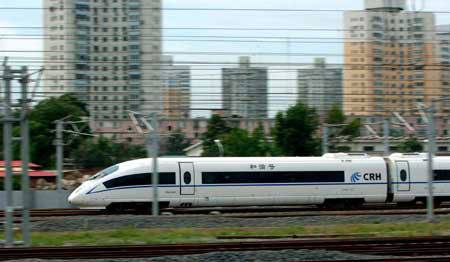 The first intercity train between Beijng and Tianjin departs from Beijing South Railway Station for Tianjin, Beijing, capital of China, Aug. 1, 2008. The intercity rail line between Beijing and Tianjin is a high-speed rail. The new train service would cut the 120-km journey from the current 70 minutes to about 30 minutes. [Xinhua]
In Beijing, more and more athletes were pouring into the city to prepare.
At Beijing Chaoyang Gymnasium, badminton players from Switzerland, Guatemala and Mexico were training on Friday. The first Olympic athletes came here on July 28.
On Friday morning, the first 54 members of the Republic of Korea (ROK) delegation arrived in Beijing. The country will send 389 people, its largest Olympic delegation, to Beijing.
By Thursday evening, about 2,500 people from 141 delegations had moved into the Olympic Village.
Last-minute preparations were also speeding up. The renewal project of the Fengtai Sports Center Softball Field to hold the Olympic softball events finished on Friday. More than 500 volunteers were in place to serve their duties in the stadium.
Drivers of about 67,000 taxis in Beijing wore their new uniform, a yellow shirt and blue trousers, for the first time on Friday.