Tang Tian, a 29-year-old executive at a US management consultant firm, is the poster girl of the burgeoning middle class in Shanghai.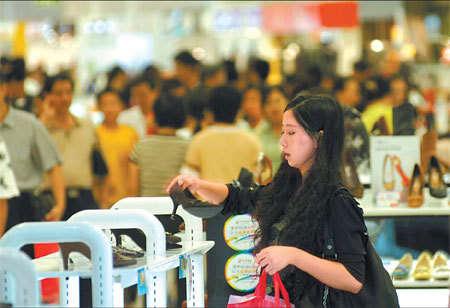 A customer checks out shoes in a mall in downtown Nanjing, Jiangsu province. Middle-class consumers are getting more price-conscious with the cost of food and other necessities rising since early last year. [File photo]
Her career is assured and her salary has been rising at double-digit rates in the past several years. She bought an apartment two years ago, just before prices surged. Her apartment has already doubled in value, at least on paper.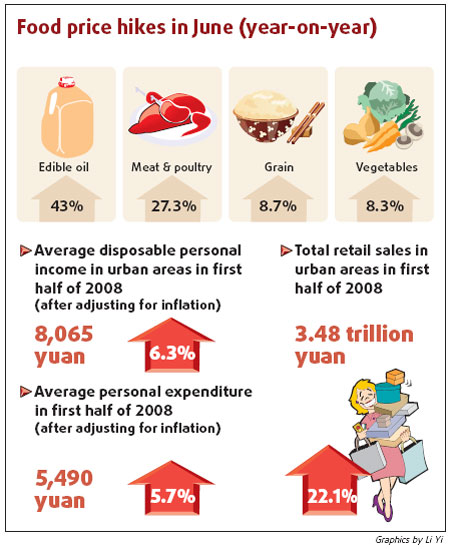 But Tang is not happy.
Like many other young professionals of her age, Tang has caught the inflation blues.
To be sure, there is no sign of a massive cutback in consumer spending that could make a dent on the GDP. Being the favorite sons and daughters of the country's rapid economic development, the upwardly mobile urbanites in Shanghai and most other major cities are taking home incomes that are, on average, rising considerably faster than inflation.
But what these city-dwellers worry about is not so much an immediate erosion of living standards, as faced by many urban poor, but rather a nagging concern about the longer-term impact that surging global inflation may have on the country's increasingly internationalized economy.
So far, their worries have remained vague. Nobody can pinpoint at this time how the unfolding economic troubles are going to hit their pockets and affect their lives. As the adage goes, it is all in the mind.
"I really don't know why I don't feel as carefree as before," Tang said.
"But I just keep telling myself that things are getting more and more expensive and I must be more careful about how I spend my money."
As if to illustrate her point, Tang asked the waitress to pack all the leftovers at a dinner for her to take home. "I never used to do this until a few months ago," she said.
"Now it has become almost a habit."
To many white-collar workers with a monthly salary ranging from 5,000 to 7,000 yuan ($1,030), the continuous increase of food prices is weighing heavily in their minds, making them feel obliged to change their free-spending lifestyle.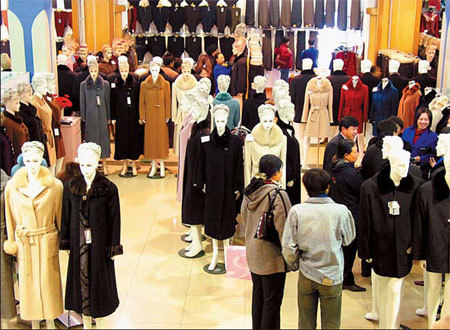 Shoppers at a clothing store in Yakeshi, Inner Mongolian autonomous region. With the costs of food and other necessities rising since early last year, middle-class consumers are becoming more price-conscious. [File photo]
In the first half of this year, the average disposable personal income in urban areas hit 8,065 yuan. After adjusting for inflation, it increased by 6.3 percent from a year earlier.
Meanwhile, the average personal expenditure for the first six months reached 5,490 yuan, rising by 5.7 percent after adjusting for inflation.
"The price increase hasn't really made much of a real impact on my life, there is no need for me to economize," said Yang Mei, a 30-year-old lawyer in Beijing.
"But the price increase is really having a large mental impact on me."
The price indices compiled in different categories by the National Bureau of Statistics showed that food prices in June rose by 17.3 percent, with meat and poultry products up by 27.3 percent, vegetables by 8.3 percent, edible oil by 43 percent and grains by 8.7 percent. The prices of home appliances and services rose by 2.9 percent, while the prices of clothing dropped by 1.5 percent.
Yang had seldom bothered to check out price tags when she shopped in supermarkets or department stores. But now, she scrutinizes prices and makes comparisons between different brands before deciding on what to buy, or to buy at all.
The change in customers' shopping habits, though subtle, has not gone unnoticed by retailers, restaurateurs and manufacturers. They have to decode the tastes of picky middle-class consumers, who account for a large part of their target clientele.
Han Yongguang, the managing director of Beijing Mansion Guiyou Co, which caters to higher-income consumers, should know.
"A growing number of middle-class customers are becoming more picky in their daily shopping," Han said.
"They seem to spend more time and take more care in choosing what they buy now than ever before," he added.
Impulsive buying has also given way to cool-headed bargain hunting.
"It is obvious that many customers are now buying only what they need and not what they want, and they tend to buy mainly items that are on sale," Han said.
Although retail sales show little sign of slowing down, retailers say customers are generally becoming more choosy about their purchases and trying to avoid items after a price hike.
Latest statistics compiled by National Bureau of Statistics showed that in the first six months of the year, the total retail sales in urban areas stood at 3.48 trillion yuan, up 22.1 percent from a year earlier.
Unsurprisingly, sales at department stores like Guiyou have not been as brisk as they used to be. Some have actually reported a slight decline in turnover in the past several months. The uncertain outlook has prompted many department stores and hypermarkets to trim their inventories of high-end goods in sync with customers' changing buying habits.
According to Han, sales in his department store showed a mild decline starting from early this year.
"The declining sales and a growing number of prudent shoppers make suppliers hesitant to place heavy inventories in our department store, but arrange supply according to the market situation," he added.
"I did not use to think much when I wanted to buy something I like," said Ge Baojia, a 28-year-old IT engineer in Beijing.
"I just went ahead and did it. But now I am spending more time on deciding which item to buy, hoping to strike a balance between quality and price."
In Dalian, Zhu Wei, a 27-year-old designer working in a Japanese advertising company, put it more specifically. In the past, she said she bought yogurt, her favorite food, whenever she felt the urge. But since the price of the dairy product has surged by more than 50 percent in the past months, she buys them only in bulk whenever there is a promotion at her neighborhood store.
"I feel I owe it to myself to purchase yogurt in a planned way to combat rising inflation," Zhu said.
Since then, she has extended her yogurt-buying strategy to the procurement of other basic necessities.
"I found that buying shampoo in large bottles is more economical than buying them in small packages, although it's going to take me forever to finish one big bottle of the stuff," she said.
Others are economizing by ditching costly branded products in favor of cheaper alternatives.
"I switched to using soaps instead of bathing foam to save money, and, guess what, soaps are just as good as a cleanser," said Tang in Shanghai. She has also switched to a cheaper, local brand of shampoo and has not been able to really tell the difference so far.
Miao Yang, a 26-year-old working at a publishing house in Shanghai, also realized the urgency to cut waste in daily life.
"I've changed all the light bulbs at home into compact fluorescent light bulbs which are said to be four times more efficient. I also remember to unplug the computer and TV every time I finish using them," she said.
"By doing so, I've not only cut down my bills but also saved energy and contributed to environmental protection."
Miao also started to cut down wastage of food and water.
"Ever since I found a 100-yuan bill could not buy as much food and goods as before in supermarkets, I've realized the importance of not wasting food."
"So every time I cook, I try to control the portions of food I use, to be just enough for feeding my family," Miao said.
"Even if there are leftovers, I will put them in the fridge for the next day - not throw them away as before," she added.
Stung by rising gasoline prices, middle-class consumers are also learning to save fuel and choose energy-efficient vehicles.
Deng Jun, a salesman at the Beijing Asian Games Village Automobile Exchange, told China Daily that a growing number of consumers prefer to buy a more economical and small-sized car to an SUV.
"Customers nowadays welcome Japanese brands most, " Deng said,
"Honda, which consumes much less gasoline than most other brands, topped the sales rankings in recent months."