BEIJING -- The Ministry of Civil Affairs issued a notice to eight provinces and five central-level storage facilities to start disaster relief work, as typhoon Fung Wong struck China's eastern and southern regions with heavy rain and strong winds.
The office of National Natural Disaster Reduction Committee and the Civil Affairs Ministry sent a disaster relief team to Fujian and Zhejiang provinces after starting the emergency response system, according to the notice published on Monday on the ministry's website.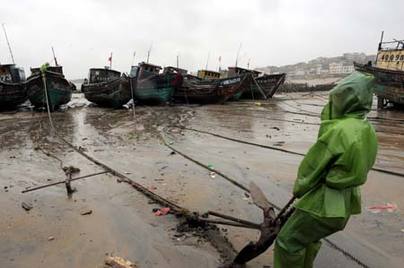 A man fixes a fishing boat before Typhoon Fung Wong makes landfall in Putian City, East China's Fujian Province, July 28, 2008. [Xinhua]
Typhoon Fung Wong, the eighth tropical storm to hitting China this year, It weakened into tropical storm early on Tuesday after making landfall in Fuqing, Fujian Province late, bringing heavy rain on Monday. 
The eye made landfall at Donghan Town, Fuqing City with winds of up to 119 kilometers per hour.
The storm continued to move northwest on Tuesday.
The notice ordered authorities to prepare for disasters. Public safety should get top priority, with shelters and supplies readied in advance, the notice said. Civil affairs departments should be staffed around the clock.
It is expected to reach Jiangxi Province late on Tuesday and hover there for three more days, producing an extra 150 millimeters of rain, on average, in the northern areas of Jiangxi by Saturday, the provincial meteorological observatory predicted.
Fung Wong will be the strongest tropical storm in China so far this year, according to observatories in Fujian, Guangdong, Zhejiang and Jiangxi provinces.
Zhejiang had evacuated 338,573 people and called back 27,656 fishing boats by late Monday, according to provincial officials.
The Fujian observatory said the eye of the powerful typhoon landed at Donghan Town, Fuqing City at 10 pm with winds of up to 119 kilometers per hour and torrential rain.
From 8 am on Monday through 7 am on Tuesday, 14 counties and cities in Fujian had 100-199 mm of rain, and two local rivers flooded.
In Zhejiang Province, some 40 hydrological stations measured 200 mm of rain from 8 am on Sunday to 8 am on Tuesday. In Wenzhou, Zhejiang, rain totals 334.5 mm, and 156,864 people were evacuated to higher ground by midnight on Monday.
Some freeways were closed, while 16 flights in Wenzhou were canceled and one was diverted on Monday.