A gang of extortionists running an illegal website has been smashed after it tried to blackmail officials in Xingtang county, Hebei province.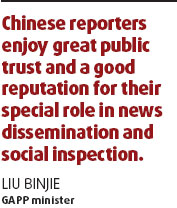 Police found that people claiming to be reporters from the "Chinese legal website" (fzchina.com.cn) had visited Xingtang's land and resources bureau on May 29, and demanded that the officials subscribe to its services.
"There are problems existing in your bureau's work. If you don't subscribe we will publish articles to expose those negative aspects," the "reporters" said, according to the Xinhua News Agency.
The website, which employed more than 80 "reporters" to circulate its news products nationwide, was not registered by any official body, Xinhua reported.
More than 1 million yuan ($147,000) has been raised from sales of subscriptions to the illegal website's newsletter since August 2006.
Mu Jingji, who registered a personal website in July 2005 and renamed it "Chinese legal website" without any official approval year later, has been arrested.
The blackmailers were busted after police in Xingtang county found that the car used by the three men used fake plates, and their journalist's ID cards were also forgeries.
The State Council Information Office also later confirmed that the website was illegal.
Police soon identified the location of the website as a residential address in Beijing's Chaoyang district.
About 580 government departments and institutions in provinces including Hebei, Henan, Shaanxi, Fujian and Jiangxi had been blackmailed into subscribing to the website's services.
The site links to a number of well-known domestic websites and it had established more than 30 provincial channels.
In November, the General Administration of Press and Publication (GAPP) started a campaign against bogus newspapers, news bureaus and reporters.
"Chinese reporters enjoy great public trust and a good reputation for their special role in news dissemination and social inspection," GAPP Minister Liu Binjie said during an online interview at Xinhua's website.
"Some institutions and organizations or individuals with dark sides are very afraid of being exposed by the media."
"Therefore a small number of unscrupulous people exploit those opportunities," Liu said.