The country is set to enter the high-speed railway club, with its first 350kmh-passenger train traveling between Beijing and Tianjin scheduled for launch on Aug 1.
The new service is expected to cut travel time between the 120-km route by half, to less than 30 minutes.
"From now on, China will possess one of the world's fastest high-speed rail services," Zhang Shuguang, deputy chief engineer of the Ministry of Railways, said on Tuesday.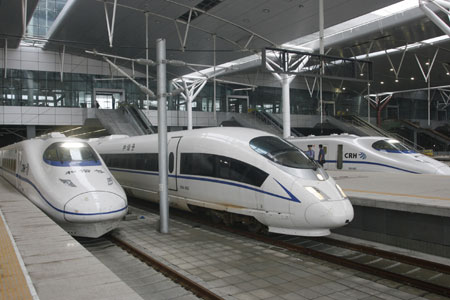 Three bullet trains stand ready for departure at a railway station in Tianjin July 1, 2008. The high-speed trains, to run as fast as 300 kilometers per hour between Beijing and Tianjin, begin test runs on Tuesday. The shuttle train servcie will be provided before the Beijing Olympic Games. [Xinhua]
In comparison, high-speed trains in Spain and Japan run at 320kmh, while those in France, Germany and Italy travel at 300kmh, Zhang said.
And for the passengers who were invited to experience the service during a trial, riding the trains were "just as comfortable" as being on slower ones.
Sitting in one of the swivel seats on board a sleek carriage of the new service, Beijinger Zhang Tao said she did not feel dizzy or uncomfortable.
The pleasant interior of the carriage, similar to a passenger aircraft's, helped.
"I didn't even notice that the train was already going that fast, until somebody announced the speed - 350 kmh - in about 10 minutes after the train left the railway station," she said.
"If there was any detectable difference, it would be that the cars running on the freeways beside the railway looked even slower," she said.
With traveling time between the two cities shortened by the new rail, many say couples who cannot afford apartments in the capital can now consider those in Tianjin.
"Young people may think about working in Beijing and living in Tianjin, because commuting between the capital and Tianjin will soon be as easy as taking the bus," Zhang Shuguang said.
As for the ticket price of the new service, the National Development and Reform Commission (NDRC) yesterday said the rail's company will decide on one for the yearlong trial, after which the final price will be announced following legal procedures.
Zhang said a first-class ticket for the trip will be about 70 yuan ($10) and a second-class one, 60 yuan.
The NDRC also said that other rail services between Beijing and Tianjin should not be reduced, to keep up with various demands of commuters.