DALI, Yunnan -- More than 2,000 wooden poles recently unearthed at a site in Jianchuan county, have been found to be more than 3,000 years old.
The poles, still standing, were dug 4.5 m into the ground.
Archaeologists said carbon tests showed the poles were from the Neolithic age, and were probably the foundations for a structure built by a community that existed at the time in southwest China.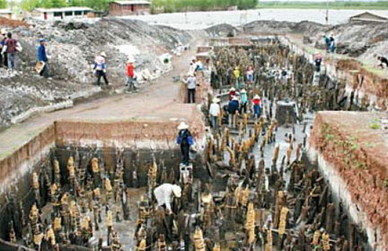 Archaeologists excavate a site from the Neolithic age in Jianchuan county, Dali, Southwest China's Yunnan Province. [China Daily]
They said this community may turn out to be the largest Neolithic one of its kind that has ever been discovered in China, or even in the world. It could be older than the Hemudu community in Yuyao, Zhejiang province, birthplace of the Yangtze River civilization.
"I was shocked when I first saw the site. I have never seen such a big and orderly one. This could be only a small fraction of the actual community that existed at the time," Yan Wenming, history professor at Peking University, said.
Excavation of the site is still going on. A total of 28 excavations have been made so far of an area that covers 1,350 sq m. Min Rui, a researcher at the Yunnan Archaeological Institute who leads the excavation, said the area could eventually cover 4 sq km
Yan said the poles could have been the foundations for a house as these types of structures have been found in Hubei, Guangdong, Zhejiang and other provinces, the most famous being the Hemudu site.
"Right now there is also such a site being excavated in Switzerland. But that site is smaller than the one in Yunnan. The Yunnan one could be the largest in the world," Yan said.
Archaeologists have also found more than 3,000 artifacts made of stone, as well as pottery, wood, iron and bones. The most eye-catching piece is a red jar, Min said.
The site, which lies on the banks of the Jianhu Lake, was discovered in 1957 during the construction of a canal. Broken pieces of pottery were found nearby. Excavation started in January this year - five decades after the discovery.