GUIYANG - Police in southwest China said on Saturday they have detained 117 people, including 48 gang members, following the June 28 violent unrest sparked by rumors about the death of a teenage girl.
Related readings:


 100 people detained over violence 


 Final autopsy shows girl drowned


 'We didn't do it', male friends of dead girl say
As of Friday, police had interrogated 234 people involved in the unrest and detained 117 of them, said the Public Security Bureau of Weng'an County, Guizhou Province.
Controversy over the cause of the death of Li Shufen whose body was recovered in a river on June 22, sparked off a massive protest and riots in the county seat. Office buildings of the county government and public security bureau were torched. Dozens of government vehicles were smashed.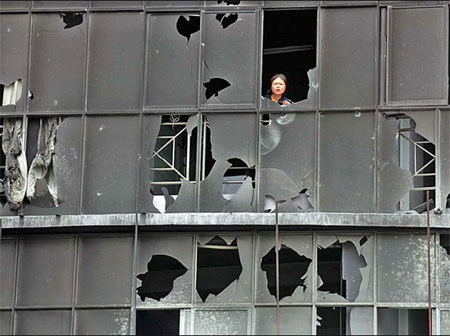 A policewoman looks through a broken window yesterday at the burnt-out Weng'an public security bureau in Guizhou province, which was set ablaze and ransacked by locals. [China Daily]
The dead girl was a student at the No. 3 Middle School in Weng'an.
Her relatives suspected she was raped and killed, but a third postmortem, after the unrest, and previous reports concluded she had drowned.
Authorities found gangs prevailing in the area participated in the unrest.
The police bureau said they had established a special team to crack down on the gangs. Police had busted three gangs which had existed for a long time in the area and were still probing six others, it said.