CHENGDU: Authorities Tuesday unveiled a 2 billion yuan ($292 million) reconstruction plan for Sichuan's Wolong Nature Reserve, which was severely damaged by the May 12 earthquake.
The plan was jointly developed by experts from Wolong Nature Reserve Administrative Bureau, Peking University, Chinese Academy of Sciences and Beijing-based Turenscape Company. It has been submitted to the Sichuan provincial department of forestry and the State Forestry Administration for approval, sources from the Wolong Nature Reserve Administration Bureau said.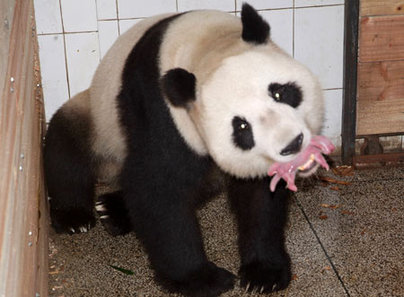 Giant Panda 'Guo Guo' holds one of her twin babies in mouth after she gave birth to the twins at the Bifengxia Base of China's Giant Panda Protection and Research Center, in Ya'an, Southwest China's Sichuan Province, July 6, 2008. Twelve-year-old 'Guo Guo' was transferred from the center's Wolong base in Sichuan to the Bifengxia base after a devastating quake hit Sichuan on May 12. [Xinhua]
According to the plan, the China Conservation and Research Center for Giant Pandas in Wolong will be relocated from Hetaoping to Gengda, which is also in the reserve.
The new site in Gengda would feature a laboratory covering 650 sq m; panda houses covering a total of 1,500 sq m; a panda hospital; a training ground for preparing pandas in captivity to live the wild; an environmental education center; and a bamboo forest for feeding pandas in captivity.
"The new panda houses are big enough for every panda to roll around inside," Li Desheng, deputy chief of the China Conservation and Research Center for Giant Pandas, said
A giant panda disease prevention and control center will be built in Dujiangyan.
Wolong Nature Reserve Administrative Bureau chief Zhang Hemin told China Daily the relocation is expected to cost more than 2 billion yuan.
The May 12 earthquake, the epicenter of which was just 30 km from Zhang's center, wreaked havoc on the reserve. One panda died in the disaster, and another has since gone missing.
Fourteen of the center's 32 panda houses were destroyed, and the rest were severely damaged, rendering 61 pandas homeless, Zhang said.