BEIJING - The Kung Fu Panda could be helping to vanquish the curse of China's lacklustre film industry after the country's senior advisors on Friday called for less government control on creativity.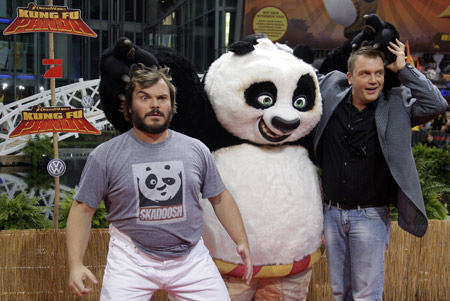 U.S. actor Jack Black (L) and German actor Hape Kerkeling pose as they arrive for the screening of the animated film "Kung Fu Panda" in Berlin June 23, 2008. The movie opened in German cinemas on July 3. [Agencies] 
Click for more photos
The box office blockbuster was the center of discussions for a panel meeting of the Chinese People's Political Consultative Committee (CPPCC) when the head of the China National Peking Opera Company asked, "Why can't we make a cartoon as popular as 'Kung Fu Panda'?"
Related readings:


 Kung Fu Panda gives food for thought


 "Kung Fu Panda" premieres at Leicester Square in London


 Kung Fu Panda a sure bet to be summer's first animated hit


 Po the panda charms and disarms China

After a lengthy philosophical discussion, the members of the Second Meeting of the Standing Committee of the 11th National Committee of the CPPCC decided, like the Kung Fu Panda himself, that "there is no secret ingredient".
They agreed on a recommendation to the government that it should relax its control in order to accelerate the reform and opening up of the cultural market and to enhance China's cultural influence in the world.
Created by the bankable directing team of John Stevenson and Mark Osborne, "Kung Fu Panda" has been a box office hit since it premiered on June 19 in Beijing and was released nationwide the following day. It also opened in quake-hit Sichuan Province, home of the panda, the same weekend.
By Sunday, its box office had exceeded 96.88 million yuan (13.84 million U.S. dollars) in the Chinese mainland.
Kicking off the discussion, China National Peking Opera Company president Wu Jiang said, "The film's protagonist is China's national treasure and all the elements are Chinese, but why didn't we make such a film?"
He compared it to another Hollywood cartoon "Mulan", which was also distinctively Chinese in subject. The 1998 Walt Disney feature animation was based on the Chinese legend of Hua Mulan, a girl who disguised herself as a man to fight on the battlefield for her father and country.
"Kung Fu Panda", about a panda in ancient China who becomes an unlikely martial-arts hero, vividly presented Chinese cultural elements such as kung fu, noodles, firecrackers, the distinct landscape, shadowboxing, temple fairs, calligraphy and acupuncture.
"Many lines in the film contain the sprit of Chinese Zen Buddhism," Wu said.