CHENGDU  -- The three-day national college entrance exam started on Thursday for 120,000 students in areas hit by the May 12 earthquake, weeks after their peers elsewhere in the nation took the crucial test.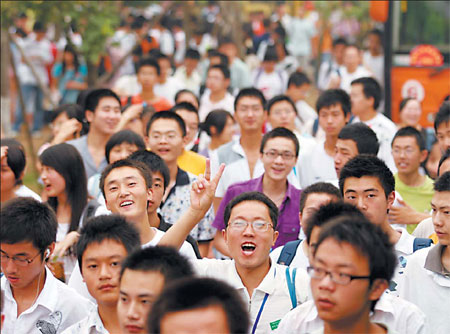 High school students on their way to the national college entrance exam in Mianzhu, Sichuan province, July 3, 2008. More than 120,000 students in Sichuan and Gansu provinces have started taking the exam, postponed for nearly a month because of the May 12 quake. [China Daily]
RESTART FROM QUAKE TRAUMA
Huang Qian, 18, wore freshly washed jeans that were bought by her mother, who died in the quake that claimed nearly 70,000 lives. Huang looked a bit nervous, and her teacher patted her on the shoulder before she entered the exam room.
"Relax, I will wait for you outside. Don't forget to sign your name on the paper," the teacher advised.
The girl nodded and strode into the makeshift classroom where she did her final cram sessions over the past month.
The first exam was Chinese, and the composition title was "The Story I Most Want To Tell". Huang wrote quickly, crying. After finishing the test at 11:30 a.m., she said her essay covered her own rescue from the quake.
Huang was among 96,000 students from 45 counties in Sichuan Province and 24,000 from 17 counties in Gansu Province taking the belated test. The two groups comprise 1.1 percent of all senior high school graduates who took the college entrance exam this year.
About 78 percent are taking the most important exam of their lives in makeshift classrooms, which were fitted with air conditioners.