GUANGZHOU - Torrential rain from tropical storm Fengshen has killed 16 people in Guangdong province, up from nine on Friday, local authorities said on Sunday.
Another nine have gone missing since the downpours began, a provincial flood control headquarters spokesman has said.
Fengshen, which means "God of Wind" in Chinese, lashed most parts of Guangdong with rain, causing rivers to swell after landing in Shenzhen early on Wednesday.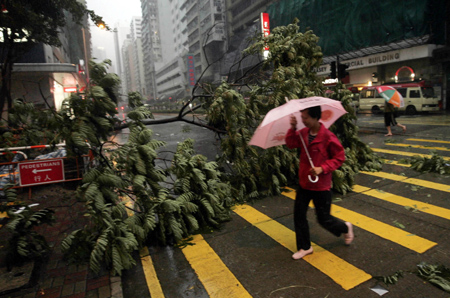 Pedestrians walk past a fallen tree across a street in Hong Kong June 25, 2008. Tropical storm Fengshen struck Southeast China coast on Wednesday after tearing through the Philippines last week, bringing driving rain, uprooting trees and closing schools and businesses. [Xinhua]
Although the tropical storm had left Shenzhen, strong rain continued to pound the city over the weekend, triggering landslides, forcing flights to be canceled and stranding passengers. But no casualties have been reported in the city.
The provincial flood control headquarters said on Friday that strong rain had affected about 340,000 people, destroyed more than 1,200 houses and inundated more than 640,000 hectares of crops.
It had also damaged roads, power lines, reservoirs and embankments. Total direct economic losses in Guangdong were estimated at about 1.2 billion yuan ($175 million).
The government has warned of the threat of rain-triggered landslides and dispatched disaster-relief teams to hardest-hit areas.
Fengshen moved north into neighboring Jiangxi province at noon on Thursday and was downgraded to a low-pressure tropical storm.
Landslides triggered by a heavy downpour killed a villager in Jiangxi's Yongfeng county.
Fengshen was continuing to move northeastward.
Hundreds were dead or missing in the Philippines after the typhoon hit the country last week.