XI'AN - Zhou Zhenglong, the Shaanxi farmer involved in the South China Tiger photograph controversy, has been detained by police for possessing prohibited items at home.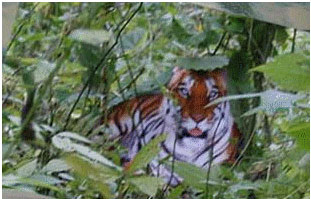 A purported South China tiger is pictured in this file photo taken by farmer Zhou Zhenglong. [Xinhua] 
Chengdu Commercial Daily quoted an unnamed Shaanxi provincial forestry administration bureau source as saying the 53-year-old Zhou was actually detained for questioning about the authenticity of the tiger photographs as the police did not mention what the prohibited items in his home were.
Related readings:


 "Directors" of fake tiger footage dismissed, face charges


 China vows to punish TV reporter for directing fake tiger footage

 'Rare' tiger exposed as circus fugitive


 Field survey fails to find tiger at controversial photo site

"Please wait for a while, information will be issued soon," an official with the Shaanxi provincial government, who declined to be named, told China Daily yesterday.
The Chengdu-based newspaper said Zhou was detained two weeks ago, and had confessed that the photographs he had taken of the South China Tiger were fake.
An unnamed official with the provincial forestry bureau said police visited the bureau last week and had talks with the directors.
The talks were held over four days, the Chengdu Commercial Daily said.
Sources said the detention of Zhou might suggest the local government is about to reveal the results of its investigations into the tiger photographs, which was very likely to have damaged its reputation.
On Oct 12, last year, the Shaanxi provincial forestry administration bureau held a press conference at which it said the South China Tiger, not seen for more than 20 years in the wild, was spotted again in the Qinling Mountain, where many rare wild animals live.
To prove this, the bureau submitted photographs taken by Zhou on Oct 3.
"We organized a group of animal and photographic experts to carefully examine Zhou's photographs, and the conclusion was the photographs were genuine, and that such a tiger was still in existence," the forestry bureau said.
It then gave Zhou a 20,000 yuan ($2,900) reward.
The photographs, however, raised a lot of questions when they were published in the media.
Most readers doubted they were genuine.
In February this year, the State Forestry Administration criticized the Shaanxi provincial forestry bureau for not complying with proper procedures, and said it would conduct its own investigation.
The results of that investigation have yet to be made known.
On Monday, a lawyer named Hao Jinsong from Beijing, went to Xi'an, capital of Shaanxi province, and filed a lawsuit to compel the bureau to give a definite answer about the photographs.