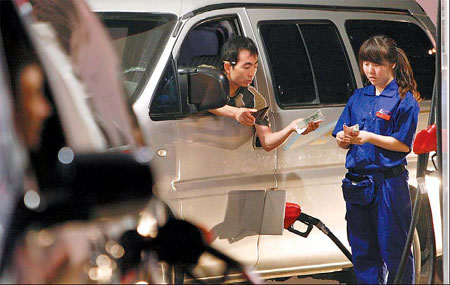 A customer pays a filling station attendant in Beijing. [Agencies]
The Ministry of Finance said on Friday it had allocated 19.8 billion yuan in subsidies to sectors that could be affected by fuel price hikes announced on Thursday.
Among the subsidies, 12 billion yuan will be set aside for taxis, urban and rural buses, the fishery, and forestry sectors, while 7.8 billion yuan will go to grain producers, the ministry said.
"The move was to effectively ease the cost pressure on some low-income groups and public service industries, caused by the price increase of the refined oil products," the ministry said in a statement.
Analysts said the move was part of the government's efforts to blunten the impact of a surprise increase of fuel prices, as inflationary pressure is already high.
The ministry said provincial governments must forward the subsidies to counties and cities within five days of receiving the funds. It said it would launch inspections and publish information on the progress of the payments to "ensure the reform of the refined oil price mechanism is carried out smoothly".
"In our projection, this time's fuel price hike will add 0.4 percentage points to the consumer price index (CPI) for the year," said Zhu Baoliang, senior economist with the State Information Center.
"However, in the long-term, this price hike is beneficial to China's economy, as it will help bring down the high crude oil price on the international market, and around half of the crude oil that China consumes every year is imported," he said.
Zhu's view is echoed in Han Xiaoping's opinion. The senior vice-president of Beijing Falcon Pioneer Technology Co Ltd said, "the price hike will not only benefit the crude oil import sector, it will also help ensure the market supply of refined oil products".
Last year, China imported 163 million tons of crude oil, around 47 percent of total consumption.
Han earlier told China Daily that the government may raise refined oil products in July, as in June the first task for the government was to ensure the summer harvest. "This time's price hike will have no impact on the Olympic Games in August," he said.
China's benchmark gasoline and diesel oil retail prices were raised by 1,000 yuan per ton and aviation kerosene went up by 1,500 yuan per ton, effective on Friday, according to the National Development and Reform Commission (NDRC).
However, fares for passenger rail services, urban and rural public transport and taxis would be unchanged, said the NDRC.
Fuel prices have been a sensitive issue in China, where the prices of refined oil products have been held down by government controls amid the surging world crude price, for fear of worsening inflation.
The country has been battling a rising inflation index, which rose 7.7 percent in May year-on-year after touching a 12-year high of 8.7 percent in February.