The Ministry of Environmental Protection is strengthening measures to hold polluting companies accountable for land pollution amid increasing public health hazards triggered by soil pollution.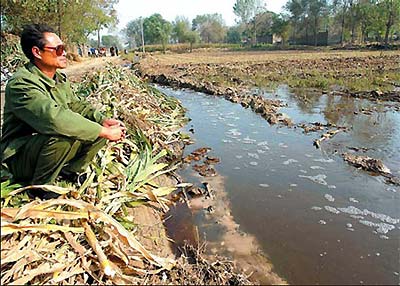 Villager Yang Xiaogang looks out at corn fields that have been submerged allegedly by polluted water from a nearby paper mill in Xiangfen, Shanxi Province, in this file photo. [China Daily]
They will be held responsible for land pollution, regardless of any change in their management structure, including restructuring, merger or dissolution.
The ministry announced in a directive provided to local environmental protection bureaus and released on its website on Monday.
According to the directive, "the company which inherits the debts and rights (of the polluter) should shoulder the responsibility" for providing financial assistance to restore the productivity of polluted land.
Previously, the policy regarding enterprises whose management structure had changed was unclear.
Land pollution is an increasing concern, as it poses a threat to food security.
"Land pollution has directly led to declining food quality," Sun Tiehang, an ecologist and member of the Chinese Academy of Sciences, told the Guangzhou-based Nanfang Daily.
The latest official figures indicate that over 10 percent of China's farmland has been contaminated.
Land pollution results in an annual average loss of 20 billion yuan ($2.8 billion), according to a report released in 2006 by the Ministry of Land and Resources.
Some 12 million tons of grain are contaminated annually, the report said.
Pollution from heavy industry, including chemical plants, steel factories and crude oil storage facilities, plays a significant role.
Since 2006, environmental authorities have directed increasing attention to land pollution, which previously received less focus than air and water pollution.
Ma Jun, director of the Beijing-based Institute of Public and Environmental Affairs, said the new directive is notable.
"It binds not only existing enterprises, but also those that once caused pollution."
But further clarifications will be needed, he said.
"The fact the notice failed to clarify punishments for violators may weaken its enforcement," he said.
Enforcement of national environmental regulations is weak, especially in rural areas, environmental protection authorities have said.
Yet they urge greater attention to the issue.
"Some environmental problems have become the main factors endangering the health and property security of farmers," a notice released earlier by the ministry said.
"This thwarts sustainable economic and social development in the countryside."
China has 7 percent of the world's farmland and is home to more than 22 percent of global population.