WASHINGTON -- Representatives from US and Chinese companies on Monday signed 71 contracts and agreements worth $13.6 billion in total in Missouri and Washington D.C.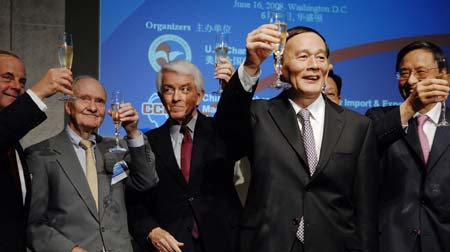 US and China business leaders, including former US National Security Advisor Brent Scowcroft (2nd L), US Chamber of Commerce President Tom Donohue (3rd L) and China's Vice Premier Wang Qishan (2nd R), share a toast after a business partnership signing ceremony at the US Chamber of Commerce in Washington June 16, 2008. [Agencies]
The deals were made at two ceremonies in St. Louis, Mo., and here, and both were attended by visiting Chinese Vice Premier Wang Qishan.
During his visit to St. Louis earlier in the day, Wang met with local political and business leaders and spoke highly of growing economic and trade relations between the US state of Missouri and China.
He noted that the China-US business relationship has expanded from coastal areas of the United States to the Midwest region, which includes Missouri, since China adopted its opening-up and reform policy 30 years ago.
Wang said both the Chinese and US governments need to attach great importance to their cooperation in the US Midwest region and create favorable conditions and an environment for cooperation between entrepreneurs of both countries.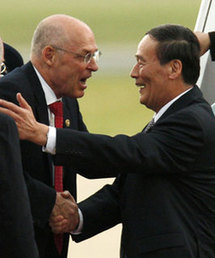 Chinese Vice-Premier Wang Qishan (R) is greeted by US Treasury Secretary Henry Paulson at Andrews Air Force Base, Maryland, June 16, 2008. [Agencies]
He praised political leaders in Missouri for their firm resistance to trade protectionism and said it is the correct position that represents the interests of the people of the US state.
After Wang arrived in Washington later in the afternoon, he attended a contract-signing ceremony in the US Chamber of Commerce.
He told representatives from both US and Chinese companies that cooperation between Chinese and US companies serves as the cornerstone for China-US economic and trade relations, and is also the foundation of the China-US Strategic Economic Dialogue, or SED.
Wang and US Treasury Secretary Henry Paulson will co-chair the fourth round of the SED between June 17 and 18 at the US Naval Academy in Annapolis, Maryland, about a 30-minute drive from Washington.
Wang is attending the meeting as the special representative of Chinese President Hu Jintao, and Paulson as special representative of US President George W. Bush.
Wang's entourage includes ministers and other senior officials from related departments of China's State Council.
Jointly launched by President Hu and President Bush in September 2006, the dialogue is held twice a year, alternating between the two countries.
The previous meeting was held in December 2007 in Beijing, China.