Beijinger Meng Xuegen's retirement dream is to see the world.
From France to Switzerland to Russia, the 67-year-old has traveled with his wife to every destination on their must-go list except for one: the United States.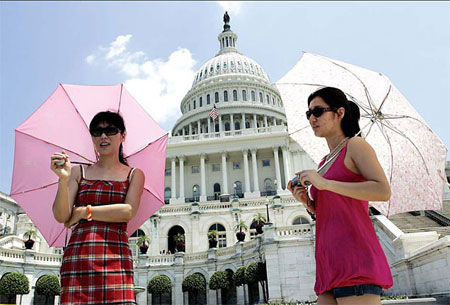 Visitors take in the sights on Capitol Hill in Washington DC on June 9. The US is set to receive more tourists from the Chinese mainland as it has won "Approved Destination Status" under a recent Sino-US memorandum of understanding. [Agencies]
But that country too will soon be crossed out.
Setting off tomorrow, Meng is among the first group of Chinese tourists going to the US after the two governments signed a memorandum of understanding (MOU) last December, which allows Chinese tourist groups to travel in the US.
The MOU saw the US granted "Approved Destination Status" after years of negotiation, making it the 134th country on China's approved list.
"I am going to the States to see the 'paper tiger'," Meng joked.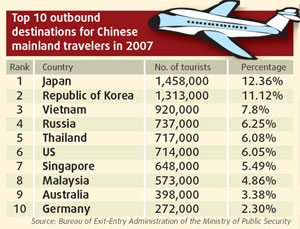 "After all, America is the most developed capitalist country in the world, so I want to take a look at it."
For ordinary Chinese citizens, the MOU has eased a decades-old restriction on travel to the US and opened the door of popular US tourist attractions to people like Meng, who have the money, time and desire to travel the world.
"New York is the city I most want to visit. I am also excited about the trip to Pearl Harbor of Hawaii," said Meng, who was born in 1941, the year when the Japanese attacked the US Pacific fleet at the harbor and pushed the Americans into World War II.
In the past, most Chinese who traveled to the US were either students or business people. Under the latest tourism agreement between the two countries, the balance is expected to shift to more leisure travel.
As the agreement takes effect today, travel agencies in both countries expect a new wave of Chinese traveling to the US for leisure.
Chinese travel agencies can now actively advertise and market US leisure tour packages. Under the agreement, they are able to run commercials and organize events such as the US Tour Week to promote products and services.
"It would have been against the law in the past," said Lin Kang, deputy general manager of the outbound department of the China International Travel Service (CITS). The company is one of the authorized tour agencies to operate Chinese tour groups to the US.
Lin said the outbound travel market has had a difficult time this year. Faced with domestic inflation, a falling stock market and the upcoming Olympic Games, many people have been choosing to stay at home rather than travel abroad.