SHANGHAI -- Both foreign and local communities in Shanghai dipped into their pockets Monday in a generous initiative to raise money for disaster relief efforts currently operating in quake-ravaged Sichuan.
A total of 3.718 million yuan was raised at s charity dinner and auction night.
The event was held by Operation Sichuan Relief (OSR) - a collaboration of the foreign community in Shanghai and the Red Cross Society of China Jet Li One Foundation.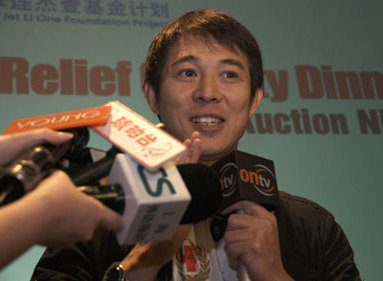 Jet Li speaks to reporters ahead of a charity dinner co-sponsored by China Daily Monday night May 26, 2008. [China Daily]
The Sweden-based Tetra Pak, a multinational food processing and packaging company, donated 9.3 million yuan two days after the event, driving the total sum to exceed 13 million yuan. All of the money will be donated directly to One Foundation to help with the rebuilding efforts of Sichuan.
"By the name of One Foundation, we want to say in spite of differences in language, culture, and region, we are one family," said Jet Li, the international Kungfu star and founder of One Foundation.
Among the items up for auction included an official autographed basketball signed by NBA star Yao Ming and fellow members of the Houston Rockets franchise, two business class air tickets on Air New Zealand's direct flight to Auckland, VIP tickets to a Team USA basketball match at the Beijing Olympics and a bottle of Hennessy personally signed by Maurice Hennessy, to name just a few.
June Neoh, marketing director of Moet Hennessy Diageo China, which provided the champagne for the auction, said employees of the company had expressed "heart-felt sadness" for earthquake victims.
"We want to personally contribute our time and effort to try to give at least a little help to them," she said.
Sandeep Bahl, general manager of Northwest Airlines, said employees of his company had already donated 50,000 yuan.
"Apart from our donation, we are working with different organizations in the US. If they want to donate tents, medicines, or other relief supplies, we are helping them to bring these supplies here on our planes for free," he said.
All items auctioned were donations and all proceeds of ticket sales will go directly to the One Foundation.
Li said One Foundation had already handed out 30,000 pieces of relief supplies to victims and that he had personally led distribution work on the spot.
More than 500 volunteers are now helping the foundation to distribute supplies to villages.
Li said the foundation will organize expert teams in fields such as psychology, reconstruction and healthcare to go to quake-hit regions within 10 days.
Established jointly with the Red Cross Society of China, One Foundation is dedicated to disaster relief in China and works independently to pursue its charitable mission.
As of noon Monday, the foundation had collected more than 63 million yuan through both corporate and personal donations since the 8-magnitude earthquake ravaged Sichuan.
It established its Sichuan Earthquake Disaster Relief Command in Chengdu a week after the quake in a bid to help fast track reconstruction.
Li also said that One Foundation's post-disaster work would focus on sponsoring and supporting the elderly, orphans and disabled.
Also, the organizer for the event said Monday that Sweden-based Tetra Pak, a multinational food processing and packaging company, will donate $15 million toward disarster relief and reconstruction in the Sichuan quake-hit areas.