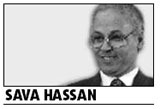 In 2003 I had my dream of visiting China fulfilled. As time passed by, I realized that China was going to be my new home away from home. I found the Chinese friendly and helpful.
After living in Canada where life is full of fierce competition, life in China was a refreshing change that brought me back to my roots. For the first time since I left Egypt, I felt that I am among family and friends.
I have found that the Chinese lifestyle bears striking similarities to its Egyptian counterpart. Both the Chinese and the Egyptians possess an abundant generosity of spirit. They are hospital almost to a fault. Both are caught in the solid web of traditions. The two nations pay great respect to education and teachers.
Sometimes, I would be walking down the streets in Beijing, feeling as if I were in Egypt. However, I hardly could talk with local people because the Chinese language is hard to learn.
But the language is hardly an obstacle to communication. The friendly smiles of the street vendors, the bargaining games with gestures are all my favorites. Of course it is a pity that some people still retain the habit of spitting on the streets.
Besides these I noticed that both Egyptian and Chinese people put emphasis on families. Older people and younger generations keep close contact, indicating that Confucius' theories are still alive in Chinese society.
And I want to say that the core of Confucian theories is "harmony", which is also highlighted by the Chinese President Hu Jintao. The term "Harmonious Society" originated from Confucian theories, which called for harmony between different peoples, between people and nature, and between different countries.
I cannot therefore imagine that a country that has a long tradition of stressing harmony can threaten any other country.
As China is assisting the establishment of Confucian schools across the world, I think more and more people will learn about the core spirit of the Chinese people.
I had expected the Olympic torch relay would bring more people to learn about the Chinese concept of harmony, but to my surprise, some Western media outlets rushed to criticize China irresponsibly.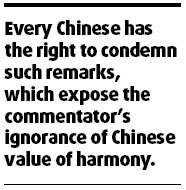 Jack Cafferty, a CNN commentator, said: "The US imported Chinese-made junk with lead paint on them and poisoned pet food. They are basically the same bunch of goons and thugs they've been for the last 50 years."
I was completely taken aback. Such vicious and slanderous remarks are not only insulting to China and the Chinese people but also an assault on the decency of human beings everywhere, regardless of their races, religions and political ideologies.
I was shocked and perplexed to read such despicable words. I felt overtaken by anger which also generated some confusion. How could CNN permit one of its commentators to broadcast such rubbish that may lead to tarnish its reputation not only among the Chinese but among its audiences everywhere?
There is a consensus among the people worldwide that the remarks are racially based and a solid proof of the ignorance of those Western media and CNN in particular about the history and culture of China that are thousands of years old.
It is natural that the Chinese would hold rallies to protest against the vicious remarks.
We all know that journalists should work for public enlightenment, but Cafferty's comments cannot have enlightened any people anywhere about China. Such comments will simply lead to building walls of mistrust between the Americans and the Chinese.
The principle of objective journalism requires that one avoids being influenced by personal feelings in reporting important events. It was very clear that Cafferty was influenced by his profound hatred of China .
From the angle of accuracy and standards for factual reporting, Cafferty crossed all boundaries when he generalized his views of China. There are no facts to support his accusation of China and the Chinese people. His remarks were based upon his pursuit of sensationalism and controversy.
From the perspective of slander and libel considerations, Cafferty used slander that amounted to being libelous in accordance with the American law. If his remarks were uttered against a particular individual, he would have opened himself for being sued for libel. However, since he insulted a whole nation, it would be impossible to legally accuse him of libel; yet human decency and the basic commitment to the nobility of his profession should have prevented him from uttering such slanderous remarks.
I think every Chinese has the right to condemn such remarks, which expose the commentator's ignorance of Chinese value of harmony.
The author is an Egyptian Canadian teacher living in Beijing
(China Daily 05/06/2008 page9)