The Olympic torch has been carried by top leaders, celebrities and former Games greats on the six international legs of its global odyssey so far - but none has made as big a splash as a Chinese woman dubbed "smiling angel in a wheelchair".
Her incredible courage in protecting the Olympic torch from repeated assaults by Tibetan separatists in Paris has made her the stuff of legend - and an Internet phenomenon.
Jin Jing, 27, a Paralympic fencer, returned home on Wednesday to a heroine's welcome and was mobbed at Beijing's Capital International Airport.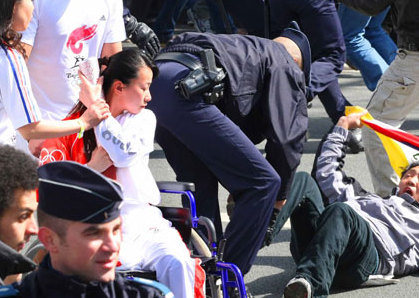 Jin Jing Holds on tightly to the torch to keep it away from attackers during the Paris leg of the relay April 7, 2008. [Xinhua]
Jin, a Shanghai native, lost part of her right leg when she was 9 after suffering a malignant tumor in her ankle. She survived the ordeal and became a member of the Chinese national wheelchair fencing team; and won a silver and a bronze in the 2002 Busan Far East and South Pacific Games.
Jin was the third torchbearer in the Paris relay on Monday but before her torch was lit, several protesters threw themselves at Jin, who used all her strength to protect the torch from being snatched away by the separatists.
Jin said her chin and shoulders were scratched, but clung on to the torch. "I didn't feel the pain I only wanted to protect the torch," she said.
"The message I wanted to convey to those separatists: I'd rather die than let go of the torch."
But Jin tried to downplay her valor.
"I don't think I did anything great," she said. "Any Chinese or Olympics-loving torchbearer would protect the torch under such circumstances."
Jin said she was also deeply touched by Chinese students in Paris. "They were fearless and brave facing up to the separatists. I was moved to tears seeing so many Chinese students waving national flags and singing the national anthem along the route."
Jin's mother, Liu Huayao, said that she was shocked that protesters would turn violent against a person in a wheelchair.
"Now we know the true face of the Tibetan separatists."
Chinese netizens have expressed their admiration of Jin, and indignation over the separatists' acts.
"Those separatists should feel ashamed. They always talk about human rights, but they attacked a weak and disabled girl," Heya Ting said.
"I burst into tears when I saw how you protected the flame," said one user on Sohu.com. "I think you protected the torch and also saved the spirit of the Olympics."
International Olympic Committee President Jacques Rogge Thursday said assaults and attacks on the Olympic torch are unacceptable.
Rogge told a news conference that what shocked him most was the violence against disabled and defenseless torchbearers.