Many of those who paint pictures of a Shangri-La in the Tibet before March 1959, clearly show they had never set their foot in the Old Tibet, which the Dalai Lama and his followers left behind.
Among the 19 journalists and writers who visited Lhasa on a fact-finding trip five months after the rebellion by serf-owners was quelled was Anna Louise Strong (1885-1970).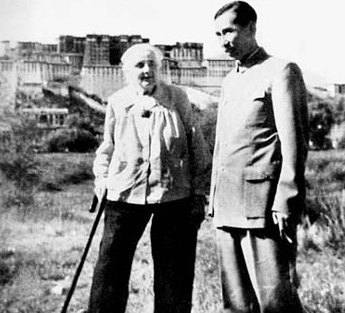 Anna Louise Strong with Ngapoi Ngawang Jigme, who in 1965 became chairman of the Tibet autonomous region. [File photo]
The culmination of her trip was When Serfs Stood up in Tibet, which is still "the best book for understanding the startling transformations on 'the roof of the world'," according to veteran journalist Israel Epstein (1915-2005).
A member of the group on the trip, I joined Strong on most of her interviews with a dozen poor lamas and her meetings with ex-serfs who poured out their grievances.
"The tales in the West about China's 'repression of Tibetans' are utter lies", she wrote.
Before 1959, "the race of Tibetans was slowly dying out from the harsh conditions of serfdom from the number of males who became lamas, engaging neither in production nor responsible reproduction, from childbirths in stables, from syphilis that followed the monasteries like a plague," Strong wrote.
And during the trip, we were also witnessing the start of the great transformation in the region. We saw the relief and delight in the eyes of former serfs as huge piles of debt papers - which subjected the serfs to lifelong servitude - were burned to ashes and whips and other old instruments of torture were also cast into flames.
In her book, Strong also pointed out that a "greater Tibet" advocated by the Dalai Lama never existed.
"The boundaries of Tibet have changed greatly through the centuries Tibet, as the Chinese use the term, is Tibet as it stood in 1911, at the fall of the Chinese empire, and as shown on most maps of this century, whether published in London or Shanghai. This Tibet includes territory where the Dalai Lama directly ruled, and the territory of Houtsang, where the Panchen Erdeni ruled."
If the Dalai Lama's claim of "greater Tibet" held water, the "Pope of Rome might with equal reason ask for all of Europe that once paid tribute through the monasteries to the Holy Roman Empire," she wrote.
The author is vice-president of China Society for People's Friendship Studies