China's wind power generation up 95% in 2007
(Agencies)
Updated: 2008-02-09 12:50
China's wind power generation rose 95.2% to 5.6 billion Kw hours in 2007, from a year ago, quoting government data the Xinhua news reported Friday.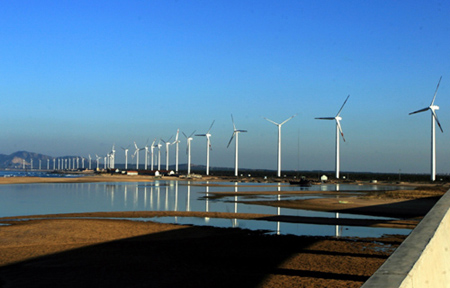 File photo of giant wind turbines in Rongcheng City, Shangdong Province. China Electricity Council said the wind power sector generated electricity of 5.6 billion kilowatt hours last year, a growth of 95.2 percent over the previous year. [chinadaily.com.cn]
The report said that China had wind power facilities with a combined installed capacity of 6.05 million kw at the end of 2007, up from 2.67 million kw in 2006. The country achieved the goal set for the 2010 three years ahead of schedule. Wind power projects under process will make up for a combined installed capacity of 4.2 million kw.
The government plans to increase its wind power equipment to a combined installed capacity of 10 million kw by 2015, and to 30 million kw by 2020, the report said.