BEIJING - Millions of Chinese had to say "sorry" to their loved ones on Wednesday as the nation geared up to greet the Lunar New Year's Eve. Some had to abandon their trips home because of the worst winter in at least 50 years.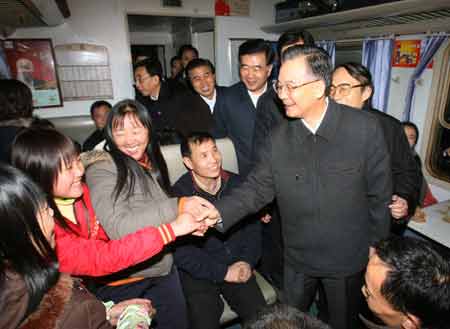 Chinese Premier Wen Jiabao talks with passengers on a train leaving for Nanchang in east China's Jiangxi Province, at the Guangzhou Railway Station in Guangzhou, capital of south China's Guangdong Province, Jan. 30, 2008. [Agencies] 
More than 12 million migrant workers chose to stay put in southern Guangdong Province, which has about 30 million such workers, according to the Guangdong Provincial Department of Labor and Social Security.
In Shenzhen, neighboring Hong Kong, about 2 million migrant workers expressed a willingness to stay, and in the financial center of Shanghai, about 120,000 migrant workers chose not to go home.
"I miss my little daughter very much. She is only one year and a half. I can not wait to go home and see her," said Wang Xiaoli, a toy factory worker in Guangdong's Nanhai City who is from Pingdingshan, Henan Province, in the central part of the country.
"But when I arrived at the Guangzhou Railway Station a few days ago, I was astounded to see so many people waiting for trains, and I couldn't get through the crowd," she said.
Guangzhou, the capital of Guangdong, with one of the biggest concentrations of the country's migrant farm workers, is the southern terminus of a trunk railway line that runs northward to Beijing. The number of stranded passengers at the Guangzhou Railway Station had at one point reached 600,000 after the weather disrupted transportation.
"My husband called me from Henan to say that he and our daughter are both doing well. He asked me not to feel worry or sorry but just stay in the factory and be happy," Wang said.
More than 1,000 workers in the factory who came from beyond Guangdong will stay put, like Wang. The factory has prepared a variety of activities for them to greet the festival -- visiting local parks, tug of war and a badminton contest, in addition to feasts and cash, Wang said.
"Maybe I will go home a few days later, because, after all, the weather has turned better and trains have begun running again," she added.
Local governments have also planned cultural activities for migrant workers who chose to stay, such as free movies and free visits to local parks, museums, libraries, galleries and exhibitions, and holding art performances and sports contests.
The local government in Shenzhen's Bao'an District organized a group wedding ceremony for 12 couples from other parts of the country on Tuesday afternoon. On the same day, another six migrant-worker couples tied the knot in Putuo District, Shanghai, in a ceremony organized and witnessed by district government officials.
"My girlfriend and I both come from the countryside and we can not afford a wedding in such a metropolis as Shanghai. I planned to go home for the marriage but it was stopped by the snow," said Kong Lujun, from Huai'an, eastern Jiangsu Province.
"I had never thought I could get married in Shanghai today. I should thank the government," said Kong, whose bride is from Tunzhou, eastern Shandong Province.
Activities were also organized elsewhere in China to ensure that migrant workers had a happy Spring Festival away from their hometowns.
In Changchun, capital of the northeastern Jilin Province, migrant workers who couldn't get home for the holiday were told that they would be able to attend two movies for free at a local cinema before February 29. They could bring a pass from their labor union and choose their show, including the blockbusters CJ7 and The Assembly.
"We would fix a time with their employers so that they would not miss seeing the movies due to overtime," said Li Shiyi, manager with the Changchun Workers' Palace Cinema.
In Fuzhou, capital of the eastern Fujian Province, more than 500 migrant workers got together for a Spring Festival eve dinner, which is traditionally eaten with the family. They were treated to a show put on by the workers themselves and were able to call home for free using six telephones.
"This is the first time I have eaten with so many people," said Li Xiaobin, a 21-year-old from Sichuan province. "The dishes are delicious. Although I can't return home, I feel so happy in such a big family."
Wednesday also marks the start of the nation's week-long holiday of the Lunar New Year, or Spring Festival, the most important festival for family gatherings in China.
The millions who were lucky enough to get tickets were rushing home by plane, train and coach, or waiting to leave following the resumption of transport services. They were eager to get home and eat "nianyefan," or the evening dinner on Lunar New Year's Eve, with relatives -- a tradition cherished by Chinese for thousands of years.
According to the lunar calendar, 2008 is the Year of the rat. The rat is the first of the 12-year cycle of 12 animals appearing in the Chinese zodiac. The ox is second and the pig is last.
China has about 200 million migrant workers out of the country's 1.3 billion population. For many, the Spring Festival is the only chance each year to see their families at home.
But this year, their trips were delayed by freak weather featuring prolonged snow, rain and sleet. Since mid-January, this weather pattern has downed power lines, covered roads with thick ice, brought trains, buses and planes to standstill and stranded millions of people.
Given the circumstances, migrant workers were advised by officials to stay in cities where they work to reduce transport chaos.
Also away from home were the power line repair workers who were busy in snow-hit regions to help locals resume electricity supply as early as possible.
On a snow-capped mountain in the Changtan village of Pingxiang city in Jiangxi Province, about 40 workers from Shaanxi have worked for four days.
"I miss my family, but in such a disaster, it is impossible for me to celebrate the Spring Festival at home," said Lu Jianglou.
"So many people are still suffering from power shortage, I have no mood returning home," he said.
The snow havoc, the worst in five decades, and even in a century in few areas, has led to deaths, structural collapses, blackouts, accidents, transport problems and livestock and crop losses in 19 provinces, municipalities and autonomous regions, according to the Ministry of Civil Affairs. More than 100 million people have been affected, and at least 60 people have died in the freezing weather.
Senior leaders, including President Hu Jintao and Premier Wen Jiabao, have gone deep into coal pits or visited railway stations in snow-stricken regions to encourage workers to produce more coal for power generation, to sympathize with stranded passengers and urge local authorities to prevent price hikes.